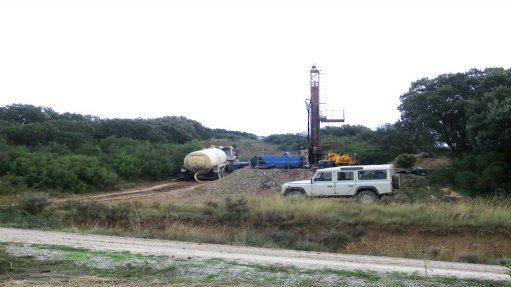 Photo by: Highfield Resources
Name of the Project
Muga potash project.

Location
About 50 km to the south-east of Pamplona, Spain.

Project Owner/s
Highfield Resources.

Project Description
An update on the Muga feasibility study has reconfirmed the compelling economics of the project.

The mine plan is based on proven and probable ore reserves of 104.3-million tonnes grading 10.2% potassium oxide, which includes the abutting exploration target.

The plan proposes the delivery of about one-million tonnes a year of muriate of potash – Phase 1 and Phase 2 will both produce 500 000 t/y – over a mine life of 30 years, comprising about 18 years of mine life from ore reserves and 12 years from additional mineral resources and the exploration target.

Underground access will be by twin parallel declines stretching 2.6 km to a depth of about 350 m.

The West decline will be developed with a bolter-miner using continuous haulage systems to transport mined material to surface; the East decline will be developed using road-headers. The same type of equipment will be used to develop underground infrastructure, including workshops and service areas such as emergency evacuation chambers, pumpstations and electrical rooms.

Potential Job Creation
Not stated.

Net Present Value/Internal Rate of Return
The project has an estimated net present value, at an 8% discount rate, of €1.82-billion and an internal rate of return of 21%.

Capital Expenditure
The project has an estimated capital cost of €436-million for the Phase 1 operation and €226-million for Phase 2.

Planned Start/End Date
Not stated.
Latest Developments
Highfield Resources has secured a A$25-million strategic investment from EMR Capital and Tectonic Investment Management to help advance the development of the Muga project.
The investment will be in the form of convertible notes, with EMR Capital to invest A$18-million and Tectonic A$7-million. The notes will have a maturity date of 24 months from the date of completion. The conversion price will be the lower of a 25% discount to the price implied by a change of control transaction, the volume weighted average price of Highfield shares over 20 trading days prior to the date of convertible note deed (being 51.5c a share), and a 10% discount to the price of any future equity capital raising by Highfield.
The proceeds from the investment will enable the company to continue to advance the project and finalise discussions with other potential strategic and financial investors to fully finance the project.
Key Contracts, Suppliers and Consultants
IGAN Consulting Group (revised mine plan).

Contact Details for Project Information
Highfield Resources, tel +34 948 050 577 or email info@geoalcali.com.