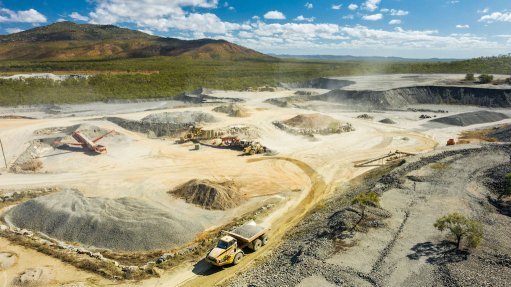 Photo by: EQ Resources
Name of the Project
Mt Carbine tungsten mine expansion project.
Location
Far north Queensland, Australia.
Project Owner/s
EQ Resources.
Project Description
The expansion bankable feasibility study (BFS) on the project proposes a 12-year operation, which focuses on the openpit development of the Andy White deposit, supplemented by the processing of 12-million tonnes of low-grade stockpiled ore.
The BFS outlines a phased investment approach, with Phase 1 and Phase 2 enabling the company to restart the openpit and generate positive cash flow without overcapitalising the project. This is in advance of Phase 3, during which pit expansion and the rehabilitation of underground workings are planned.
The openpit ore will be processed in the third and fourth year of operations.
The project includes the low-cost expansion of existing crushing, screening and X-ray transmission sorting operations, as well as the further expansion of the existing processing plant.
The BFS envisages a constant feed of one-million tonnes a year of ore to the run-of-mine over the life-of-mine. A potential expanded ore reserve from the openpit, as well as conceptual design and costing for an underground mining operation (Phase 3), will be developed in a separate scoping study that EQ Resources will prepare.
Potential Job Creation
Not stated.
Net Present Value/Internal Rate of Return
The project has a pretax net present value, at an 8% discount rate, of $131.5-million and an after-tax internal rate of return of 154%, with a payback of 2.25 years.
Capital Expenditure
A$21-million.
Planned Start/End Date
Not stated.
Latest Developments
The mining leases for the Mt Carbine project, in Queensland, have been renewed for a further 19 years, tungsten producer EQ Resources has reported.
The renewal of the two mining leases is core to the company's plans to expand its tungsten mining base.
Key Contracts, Suppliers and Consultants
JukesTodd (BFS).
Contact Details for Project Information
EQ Resources, tel +61 7 4094 3072 or email info@eqresources.com.au.