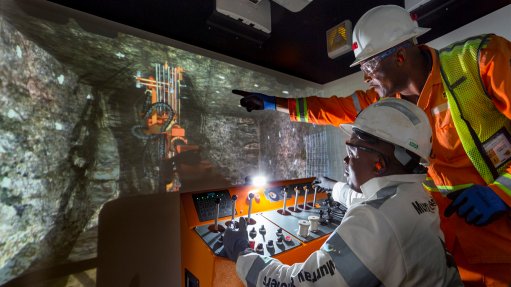 M&R Cementation aiming to become leading mechanised mining operator in Africa
Engineering and construction group Murray & Roberts (M&R) is upbeat about prospects for its strong-performing underground mining unit, which was the biggest contributor to the group's 2018 financial performance, as well as to the growth in the JSE-listed company's R30-billion order book.
The company reported a big rise in attributable earnings to R267-million for the year to June 30, up from R48-million, and also increased its dividend by 11% to 50c a share. Revenue rose a more modest 2% to R21.8-billion.
M&R is currently the subject of a hostile takeover bid by German investment company ATON, whose offer also recognises the importance of underground mining to M&R's future prospects. In fact, ATON opposed the now abandoned proposal for a tie-up with Aveng partly on the grounds that it would undermine M&R's strategy of focusing on the niche markets of mining, oil and gas.
However, M&R CEO Henry Laas continued to insist on Thursday that the proposed tie-up was motivated primarily by a desire to combine Aveng's mining business, Moolmans, with its multinational mining platform and add capacity to tackle the high-potential Australian infrastructure market by integrating Aveng's McConnell Dowell.
ATON described the proposed transaction as a frustrating action and, in early August, South Africa's Takeover Special Committee barred M&R from making further preparations for the transaction, overturning an earlier approval to do so by the Takeover Regulation Panel.
M&R subsequently abandoned the proposal, which Laas argued remained a "value-enhancing" opportunity, which the company might seek to resurrect in future. "For now, it's off," he added swiftly in a presentation to analysts.
Nevertheless, board member Diane Radley reiterated the board's valuation stance of between R8.9-billion and R9.8-billion, which translated to between R20 and R22 a share. ATON, which holds around 44% of M&R's stock, made a mandatory offer in May of R17 a share for all the shares it does not already own. M&R was trading at just above R16.20 the day after its results were released.
"The independent board will continue to pursue constructive engagement with ATON," Radley stressed.
M&R said that, while market conditions for its oil and gas and power and water platforms remained subdued, it was anticipating increased earnings from its underground mining business.
By the end of June, the mining platform, which has operations in Africa, Australasia and the America's, had enlarged its order backlog to R22.1-billion from R17.5-billion in 2017.
It had subsequently secured orders worth a further R3.6-billion as a result of contracts signed with Nevada Copper for the Pumpkin Hollow underground project, in the US, as well as for a shaft sinking project on a copper mine in South Africa.
Laas reported that its "near orders" pipeline stood at R7.9-billion, while the company had active bids in for projects with a combined value of R19.4-billion.
Its African-focused business, M&R Cementation, was actively pursuing prospects outside of its traditional markets of South Africa and Zambia. It was also moving to enhance its rapid access development and mechanised mining capabilities and had established a facility in Carletonville to ensure its employees had the skills required for the transition to mechanised mining.
"We plan to position this Africa business as a first-class mechanised mining operator," Laas said.