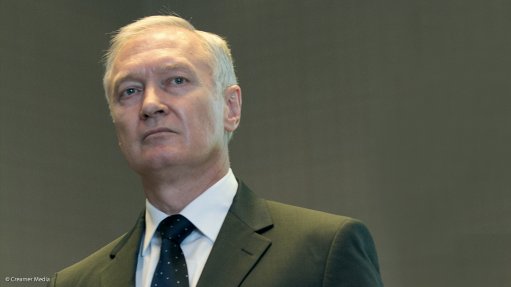 M&R CEO Henry Laas
Photo by: Creamer Media
In a surprise development, JSE-listed Murray & Roberts (M&R) announced on Tuesday that it will sell it entire shareholding in Clough Limited to Italian construction multinational Webuild for A$350-million, or about R4-billion.
The company, which has undergone a major reorganisation over the last number of years, resulting in it exiting the South African general construction market in 2016, had been trading under a cautionary since October 17.
That cautionary announcement noted that the group's working capital requirements were particularly acute for its energy, resources and infrastructure (ERI) platform, the group's largest platform which trades under the Clough brand.
In fact, Clough made up R37.2-billion of M&R's R59.5-billion order book as of the end of June.
The cautionary indicated that project cashflows had been dislodged by Covid-related disruptions, along with the need for additional working capital arising from the margin deterioration on the Traveler and Waitsia projects.
In a statement announcing the proposed sale and purchase agreement with Webuild M&R CEO Henry Laas reported that the group had reviewed several strategic options to address Clough's urgent working capital needs, and the M&R board had concluded that a transaction with Webuild was the preferred course of action.
""This is a critical step, as the ERI platform is in immediate need of a significant cash injection to service their order book and commercial commitments, which Murray & Roberts is not able to provide," Laas said.
Should the proposed transaction be concluded, the ERI platform will become part of Webuild and M&R will have no residual exposure to Clough.
M&R will retain its two other business platforms: a multinational mining platform and the sub-Saharan Africa-focused power, industrial & water platform.
In terms of the transaction agreement, the financial benefit of the proposed transaction is achieved through the cancellation of an outstanding intercompany loan account between Murray & Roberts Pty Ltd, the group's Australian holding company, and Clough, and a cash payment of A$500 000 to M&R by Webuild. The intercompany loan in favour of Clough originated through the buy-out of the minority shareholders by M&R in 2013.
In conjunction with the potential transaction, Webuild will establish an interim loan facility of A$30 million for the benefit of Clough, which will allow Clough to continue trading until closing of the potential transaction.
M&R said in a statement that full details of the proposed transaction and the interim loan would be released soon, as required by the JSE Listings Requirements for a Category 1 transaction.
The sale and purchase agreement is subject to the fulfilment and/or waiver of a number of conditions precedent, including obtaining the requisite regulatory approvals in Australia and third-party consents, as well as continuing obligations typical for a transaction of this nature.
M&R's share price, which slumped when the cautionary was issued, was trading more than 27% higher at R5.90 a share directly following the announcement.
Chronux director Rowan Goeller tells Engineering News that, while the Australian media had been hinting at the deal for some time, the pace at which it had materialised was nevertheless surprising.
Goeller said the positive market reaction could be ascribed largely to the "clean break" that the deal would offer M&R from Clough, which had an immediate liquidity requirement of about R2-billion, which M&R would have struggled to raise.
"I don't think it would have been impossible for Clough to trade itself out of this situation, which is why Webuild has stepped in with this offer.
"However, South African companies don't have a great track record in Australia and M&R's decision to make a clean break is definitely a lower-risk option."
That said, Clough did represent the restructured M&R's main growth engine, with the international mining and the Southern Africa-focused construction units not in a position to provide the growth impetus that the ERI platform was expected to deliver over the longer term.
"However, while Clough offered a big order book, there was always execution risk and the value would have come through to M&R only if Clough delivered a decent operating profit on that order book," Goeller, who is among a handful of analysts still covering M&R, noted.
The sale of Clough would also reduce the size of M&R and make it less attractive to institutional investors, who are always concerned about the liquidity of listed companies with market capitalisations of less than R10-billion.
Therefore, it was possible that M&R could once again become a take-over target.
However, Goeller noted that a previous attempt by mining-focused Aton to acquire M&R was blocked by the South African authorities.
Aton remains a 44% shareholder in M&R, which is now more aligned to its business model than had been the case when the JSE-listed group included Clough.