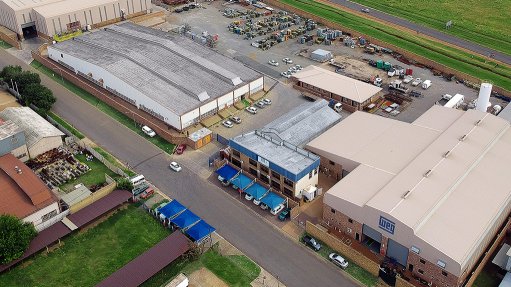 CONSIDERED CAPACITY Before developing manufacturing capacity locally, Zest WEG endeavours to understand the end-users' needs first
In focusing on energy efficiency, Zest WEG, a subsidiary of Brazilian motor and controls manufacturer WEG, is helping the South African mining industry reduce its load on the country's fragile energy generation system through the uptake of its products.
For example, the company started transitioning its WEG W22 range from IE3-rated premium efficiency motors to IE4-rated super premium efficiency motors in April last year.
"Zest WEG is dedicated to bringing the most efficient products in its portfolio to the African market to assist customers in lowering total cost of ownership (TCO), and by doing so will also help build a more cost- effective operating environment to aid the sustainability of the continent's mining industry," says newly appointed Zest WEG CEO Eduardo Werninghaus, who sat down with Mining Weekly for his first media interview since his appointment.
He emphasises that the capital involved in procuring a motor and the other energy solutions used to power the mining industry represents a small percentage of TCO, while energy consumption and downtime comprise a larger percentage.
"Determining TCO on behalf of end-users is a huge trend. Hence, Zest WEG has entered into agreements to allow for the monitoring of key performance indicators to ensure that we are delivering the value add we have promised end-users. Agreements are already in place with members of the local mining industry."
Zest WEG has a dedicated team that works closely with end-users in the mining industry to better understand their demands and, thereby, engineer more effective energy solutions, he adds.
"We are always looking to expand our portfolio to ensure that we are ready to accommodate our mining customers' requirements."
Significantly, Zest WEG intends to expand its South African manufacturing capacity in the long term to include wind turbines, with Werninghaus confirming interest from the mining sector.
He says many mining companies are keen to procure wind turbines to generate their own electricity, following President Cyril Ramaphosa's announcement of an energy action plan to address the country's power crisis.
The President said in July that government will remove the 100 MW licensing threshold for embedded generation and table "special legislation in Parliament on an expedited basis" to address the legal and regulatory obstacles to new-generation capacity for a limited period.
"We hope to make this solution available to the local market soon. We have the product available, but it is a matter of engaging with the market to secure contracts and finalising investment before we start building wind towers, nacelles, rotors, hubs and generators locally," elaborates Werninghaus.
In addition, Zest WEG offers generator sets, steam turbines and co-generation solutions as part of its power generation offering, consequently enabling the end-user to select the solution that best suits their needs.
"WEG also has battery storage manufacturing capabilities, but it is a matter of understanding the end-users' needs first before developing manufacturing capacity locally," he explains.
The long-term outlook for the mining industry is promising, with improved commodity prices making many previously unfeasible projects viable investments.
"We are ready to meet this demand through our South African manufacturing capacity. Our large product portfolio of energy efficient solutions deliver local content and improved TCO to add value to end-users' operations," states Werninghaus.
However, when looking to capitalise on the higher commodity prices triggered by the Covid-19 pandemic, the local mining industry was left hungry for energy solutions, owing to the supply chain disruptions created by the impact of lockdowns on manufacturing, he adds.
"The supply of and demand for energy solutions from the mining industry have almost equalised."
Nonetheless, Werninghaus believes that Zest WEG navigated the disruption better than many other companies, as it leveraged its global manufacturing capacity to address shortages of raw materials and semiconductor chips.
"Logistically, I cannot say that there has not been an impact on manufacturing, owing to shipping container shortages, for example. But we work closely with our customers to fulfil our commitments.
"Zest WEG is a growing company and Africa comprises a huge portion of what we do."
The company has supplied products to the Kamoa-Kakula copper mine – a joint venture between Ivanhoe Mines (39.6%), Zijin Mining Group (39.6%), Crystal River Global (0.8%) and the government of the Democratic Republic of Congo (20%)– which began commercial production in July last year.
"A huge portfolio of products was supplied for this project. This includes a 120/11 kV mobile substation for the construction phase of the initial mine and mobile e-houses that can be transported as the mining operation progresses," says Werninghaus.
Low- and medium-voltage motors were also supplied, with Zest WEG eager to continue its relationship with Kamoa-Kakula, whose existing mineral resource has been independently verified as Africa's largest copper find.