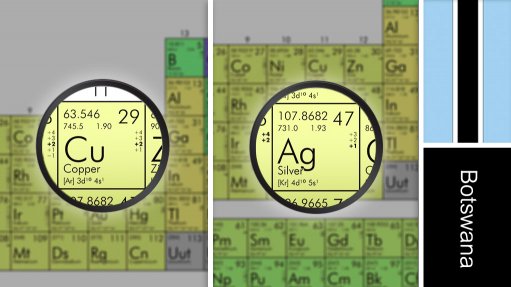 Name of the Project
Motheo processing plant expansion.

Location
Botswana.

Project Owner/s
Sandfire Resources.

Project Description
A prefeasibility study (PFS) has confirmed the strong business case for the development of the Motheo project's A4 deposit as part of the expanded 5.2-million-tonne-a-year Motheo production hub strategy.

The A4 deposit has estimated openpit ore reserves of 9.7-million tonnes grading 1.2% copper and 18 g/t silver.

The A4 PFS outlines the first additional satellite deposit to the Motheo copper mine, expanding plant production from 3.2-million tonnes a year to 5.2-million tonnes a year over its five-year mine life. Estimated copper production contained in concentrate over the life of the A4 openpit is estimated at 105 000 t.

Mine facilities include surface mining operations at the A4 deposit, expansion of the processing plant and supporting infrastructure.

The project has a total mine life of 12.5 years.

Potential Job Creation
Sandfire reported in August 2022 that there were more than 1 700 personnel on site.

Net Present Value/Internal Rate of Return
The project has a pretax net present value, at a 7% discount rate, of $682-million and an internal rate of return of 36%, with a payback of 2.9 years from the start of production.

Capital Expenditure
Total preproduction development capital has increased to $366-million, incorporating the development costs for the A4 openpit and an updated cost forecast for the Motheo plant to account for increased steel costs, foreign exchange movements and Covid-19-related disruptions.

Planned Start/End Date
First production in the June quarter of 2023.

Latest Developments
Sandfire Resources has produced its first copper concentrate from the Motheo mine. First shipments from Motheo are expected by midyear, and Sandfire is now focusing on completing the commissioning activities and ramping up the processing plant.
The company has reported that construction of the mine is nearing completion, with equipment commissioning activities more than 92% complete for the initial 3.2-million-tonne-a-year processing capacity.
Openpit mining at the T3 pit is proceeding on schedule, with more than 270 000 t of ore at 1.1% copper, and 130 000 t grading at about 0.7% copper, having been stocked on the run-of-mine pad at the end of April.
The first concentrate production comes with the introduction of ore to the semiautogenous grinding mill.
With the approval of the A4 project environmental- and social-impact assessment paving the way for the grant of the A4 pit mining licence, Sandfire's attention will turn to the delivery of the rapid, low-cost expansion in capacity from 3.2-million tonnes to 5.2-million tonnes a year by early 2024.
Key Contracts, Suppliers and Consultants
None stated.

Contact Details for Project Information
Sandfire Resources, tel +61 8 6430 3800.