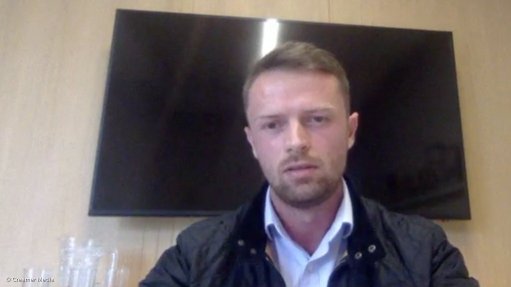 Pearl Gray Equity and Research's Steve Booyens.
Photo by: Creamer Media
JOHANNESBURG (miningweekly.com) – More succinct licence processes are needed to attract exploration investment in South Africa, Pearl Gray Equity and Research managing partner Steve Booyens said on Friday.
"There are loads of investors in North America, London and the European Union that want to invest, but they're afraid of delay costs, opportunity costs and poor governance," said Booyens, who spoke to Mining Weekly in a Zoom interview. (Also watch attached Creamer Media video.)
Seen as being essential is the speeding up of processes and the putting in place of an industry due diligence standard that is respected by foreign investors, "because that's where you need to get your capital from at the end of the day".
Better processes in obtaining permits and licence awards are "a must have", in the view of Pearl Gray Equity and Research, which provides investors with research required to participate in junior resource mining, which is currently under the spotlight globally.
In North America, there are exchange traded funds that specifically invest in small-scale lithium or small-scale gold and they're flourishing, but it's because the necessary processes, the basics, are in place.
Mining Weekly: What must be done to ensure that exploration emerges strongly?
Booyens: The processes must be speeded up. A venture capital stage business doesn't have the luxury to go and take two or three years out of the labour force.
Why is it that the Toronto Stock Exchange has 1 600 small resource companies, Sydney 600 small resource companies and the JSE has only a dozen or so. Surely, if we followed Canada's flow-through model, we'd be able to have many more small resource companies here?
That's where the thin trading problem is a big issue. It's all good and well saying we want you to follow the model of the Canadians and Australians, but that's not a uniform solution. We first of all need to look at South Africa's infrastructure. The JSE's not a liquid market and South Africa is not a transparent exploration market. North American markets are transparent, and they are liquid, as is the Australian market, so we've really got to find our own solutions. When you speak of flow-throughs, we need to form partnerships with foreign exchange traded funds, for instance. You've got exploration exchange traded funds abroad that would invest in, let's say, gold exploration companies, but what they require is real transparency from the companies they have in the exchange traded fund, otherwise, there's no value-add for them. Again, speaking as a non-lawyer, it all starts with the basic process. How can we get processes quicker? How can we get proper infrastructure in place with regard to transparency?
What needs to be done to ensure that listings on the small end of the JSE are successful?
The first issue for the JSE is that it is very thinly traded, so it's an illiquid market. If we look outside of the top 100 listed entities, you've really got a lack of exposure for companies. It's one thing saying that you want exploration companies to list. It's another thing assuring external investors, especially outside of South Africa, that these companies have proper prospectuses, that these companies are going to be able to really sustain within a good governance system, because those are issues that we are faced with at the moment in South Africa.
HIGH-VOLUME TRADING NEEDED
Booyens holds the view that until high-volume trading and high liquidity return to the exchange, companies outside of the top 100 are better served by running as private companies.
"The reason I say they'd be better served as private companies is that if you're a thinly traded company that has spent quite a lot of money on listing and a bit of money on your road show, I believe that those funds can be better spent on maybe getting the services of a geologist that you need, or maybe getting that environmental licence that you need, maybe doing your own roadshow.
"Moreover, I'd say that if you go and look at the low market capitalisation of mining exploration companies in South Africa, without mentioning names here, if you go and look at their balance sheets, you're sitting with companies with R700 000 on the balance sheet. If you go into their websites, there is no clear strategy there. So, I'm just wondering, what if they just spent that additional money on getting a proper infrastructure in place and raising money privately? That's my opinion and that's pretty much uniform from a market-based research point of view.
To what extent are communities and South Africans in general being disadvantaged by exploration and mining being delayed?
Let's maybe drift away from small scale for a second. We've just seen the Royal Bafokeng Platinum acquisition by Implats and you're seeing the community benefits out of that. There's a community fund that's been put into place specifically for that. You can just imagine the jobs coming out of that. Now, imagine if you can form an enclave of small-scale mining and tap into resources, how that would improve communities. We all know the value of platinum group metals (PGMs) mining. The value, for instance, that PGMs mining can add. Communities, taxes, you're missing out big time. South Africa is at a current account deficit. That should not be happening in this country and I firmly believe that is because we're overly reliant on the big players in the mining industry and other industries, and there's not enough small businesses getting the necessary funding they need. Therefore, there's a lack of externalities and it is having an adverse effect on the country in general.
What, in your view, should be the biggest takeaway from this interview?
Maybe to leave the JSE with these thoughts: I know there are net delistings on the JSE currently, and I know it's a big worry. I would just be very careful of accepting listings on to the exchange just for the sake of stopping net delistings, just to save the reputation of the JSE. Let's start getting the basic stuff right because, again, based on anecdote, you can go and look at some of the low market capitalisation companies especially in resources. If I'm a majority investor or a minority investor, I would simply just not touch those companies. Maybe improve listing processes, have more advice in the process, have a tougher due diligence process and from there on in, we can restore confidence in the JSE and then better companies will then want to list and they'll spend money on the road shows because they'll be confident of raising the necessary capital.