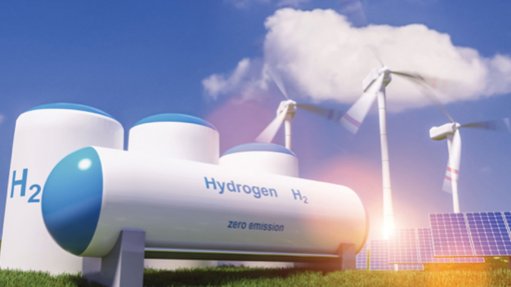 Demand for platinum-based green hydrogen generation growing.
JOHANNESBURG (miningweekly.com) – Up to 1 350 t of green hydrogen can now be generated a year from renewable solar and wind power in the Wunsiedel Energy Park, in Germany.
"This is another example of platinum-based production of green hydrogen in Europe that will assist both the replacement of imported natural gas and the earlier use of heavy-duty fuel cell electric vehicles.

"It highlights platinum's crucial role in global decarbonisation that has been significantly boosted by energy security concerns in Europe and decarbonisation funding in the US, as detailed in the recent Inflation Reduction Act," World Platinum Investment Council (WPIC) stated in response to Mining Weekly. Platinum group metals (PGMs) mining companies that make up the membership of the WPIC are Anglo American Platinum, Impala Platinum, Northam Platinum, Royal Bafokeng Platinum, Sedibelo Platinum and Tharisa.
The green hydrogen in Wunsiedel is generated by an electrolyser – with a total capacity of 8.75 MW – from Siemens Energy's "Silyzer 300", which is based on platinum-using proton exchange membrane (PEM) technology. Talks regarding the expansion of the plant's capacity to 17.5 MW are already under way and by 2030, the European Union is set to be generating ten-million tons of green hydrogen a year.
A plus for Southern Africa's PGMs miners is the description of the PEM technology deployed as being optimally suited for operation with renewable energies.
Mining Weekly can report that Southern Africa is itself seen as being an ideal generator of green hydrogen, owing to its superior sun, prime wind, abundant land, hydrogen skills, PGMs, and the need to reduce the region's heavy dependence on fossil fuel power, to prevent exports being subjected to punitive climate tariffs in the years ahead.
Already doing its rounds at the Mogalakwena PGMs mine in Limpopo is Anglo American Platinum's huge green hydrogen haul truck. Plans are also being made to extend green hydrogen haulage to all other Anglo American mines.
In Wunsiedel, the green hydrogen will be used primarily in the region's industrial and commercial enterprises, as well as in road transport.
With this amount of hydrogen, 400 40-ton hydrogen-powered trucks could – assuming a regional distance of 150 km a day – drive for an entire year without emitting any carbon dioxide (CO2).
By using the hydrogen generated in Wunsiedel and the related replacement of fossil fuels, yearly CO2 emissions can be cut by up to 13 500 t.
As general contractor, Siemens' Smart Infrastructure is responsible for building the hydrogen plant as well as creating an intelligently monitored and controlled electricity grid.
The regional business community – encompassing everything from the glass and ceramics industry to transport companies, automotive suppliers and the neighbouring sawmill – is the green hydrogen user base.
The hydrogen will be distributed by truck trailers on a decentralised basis to end customers mainly within a radius of 150 km to 200 km, covering Northern Bavaria, Thuringia, Southern Saxony and Western Bohemia.
In addition, the regional fleet of commercial vehicles is earmarked for decarbonisation following the construction of a green hydrogen filling station at the Wunsiedel Energy Park, which is scheduled for completion next year.
A paper just published by Anita H.Reksten, Magnus S.Thomassen, Steffen Møller-Holst and Kyrre Sundseth states that the deployment of intermittent renewable energy in recent years, and the subsequent increased need for flexibility for the electric power system, has led to an increased focus on green hydrogen produced from renewable energy sources.
They describe hydrogen as not only being a flexible energy carrier with the potential application in many sectors, but also lending itself to long-term storage. In this way, it provides a balance for fluctuating renewable energy sources. Uses include fuel for zero-emission transport, especially in heavy-duty transportation and in the maritime sector; in reduction processes in the steel industry; and for converting renewable energy into various energy carriers such as synthetic methane, synthetic liquid fuels, ammonia and methanol.
Hydrogen's versatility, the researchers note, has lately led to the installation of several large-scale electrolyser plants internationally.
Electrolyser manufacturers plan to introduce 2 MW to 6 MW commercial electrolysers and even up to 100 MW electrolysers capable of producing 40 t to 50 t of hydrogen a day.
REQUIRED ENERGY TRANSITION
The European Union states that achieving the required energy transition will need hydrogen on a large scale, which is in line with the International Energy Agency conclusions that this is the time to scale up hydrogen technologies and bring the costs down to allow hydrogen to become widely used and that is possible to take advantage of the currently increasing political and business momentum. The European strategy includes explicit electrolyser capacity targets of 6 GW by 2024 and 40 GW by 2030, as well as production targets of one-million tonnes and 10-million tonnes of green hydrogen a year within this time frame. Green hydrogen is converted back into electricity with the use of platinum-using PEM fuel cells.