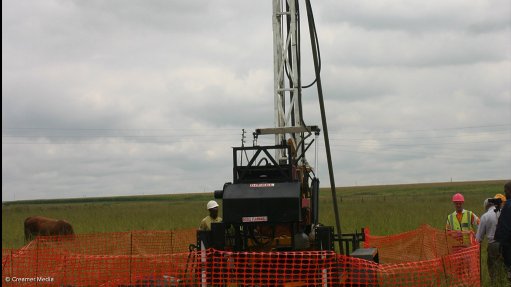 EXPLORATION EDGE The Prospectors and Developers Association of Canada wants a conducive environment to improve Canada's mineral exploration and mining competitiveness
Although there was a prolonged downturn from 2012 to 2016 in the global minerals industry, the outlook for exploration financing and expenditures continues to improve. However, while there was a significant recovery globally in 2017, the recovery was only modest in Canada, says industry organisation the Prospectors & Developers Association of Canada (PDAC).
"While Canada remains a top destination for minerals investment, there are areas that can be strengthened to support our competitiveness on the global stage. The global competition for mineral exploration investment is fierce and the data suggests that Canada cannot afford to rest on its laurels," PDAC president Glenn Mullan tells Mining Weekly.
He says minerals exploration is needed to find new mines, but securing access to the capital required to finance projects is difficult. Guaranteeing a competitive landscape, in terms of access to capital, involves favourable fiscal incentives and taxation policies, and efficient securities regulations.
"Access to capital is a significant risk facing Canada's unique minerals exploration and development sector. To ensure the country's competitiveness in the global minerals industry, jurisdictions need sound fiscal policy."
Mullan explains that fiscal and tax incentives ensure the flow of capital into minerals exploration projects; however, the most notable national policy that supports financing for minerals exploration is the flow-through share regime and the Mineral Exploration Tax Credit (METC). These enhance the ability for exploration companies to raise the capital required to undertake minerals exploration.
"PDAC recommended that the federal government sustain the flow-through share regime and renew the METC for a minimum period of three years to provide predictability for investors and project proponents."
Mullan adds that the high standard of securities regulation in Canada provides investors with the confidence to invest in the exploration stage in high-risk and reward companies, while efficient regulation is important for issuers, which usually raise small amounts of money, but pay relatively high prices, owing to the cost of complying with securities regulation.
On reducing the cost of raising capital, owing to investment opportunities, Mullan says PDAC works with regulators to initiate capital market reforms that will make securities regulation more efficient.
Mullan notes that the infrastructure deficit in northern Canada is a barrier for minerals investment and project advancement, and this limits economic development opportunities for the country's northern and indigenous communities.
"Government can support the minerals industry in Canada's north through strategic infrastructure investments, particularly through the Canada Infrastructure Bank announced in 2016."
Technology and Innovation
Mullan says the minerals exploration and mining industry has a long history of being innovative and using new technologies; however, these adaptations have often been isolated and lacked any universal uptake by industry.
He adds that the industry is realising that sharing new innovations and technolo- gies helps enhance minerals exploration and mining.
One example of sharing innovations is the recent surge of multi-organisation consortiums such as that involving Metal Earth, the Bradshaw Research Initiative for Minerals and Mining, the Canadian Mining Innovation Council, the Centre for Excellence in Mining Innovation and its new innovation supercluster proposal for Clean, Low-energy, Effective, Engaged and Remediated (CLEER).
Mullan says CLEER aims to tackle global challenges of water, energy and environmental footprint with bold targets of a 50% reduction in each area by 2027.
He indicates that artificial intelligence and Big Data are also providing the minerals exploration industry with more technologically advanced and effective exploration tools.
"Enhanced government investment in and awareness of innovation in the mineral exploration and mining industry is important for advancing efforts to improve efficiency and productivity in the search for new mineral deposits needed to meet the needs of modern society, as well as mitigate environmental impacts."
Mullan says government has to invest in innovative machinery and techniques to improve the rate of discoveries and enhance Canada's competitiveness while trying to reduce carbon emissions and environmental impacts.
Regulatory Reform and Land Use
PDAC says government must ensure that regulatory regimes are effective, efficient, predictable and balanced to reduce uncertainty, delays and costs for companies.
Mullan indicates that the association has been engaging government on protected areas in Canada and the commitment to withdraw from 17% of the country's land mass under the United Nations Convention on Biological Diversity.
"There is a diverse range of values associated with the use of land in Canada. Therefore, it is understandable that there will be times when certain lands will be withdrawn or protected, owing to biodiversity or cultural value. However, land-use decisions must balance cultural, ecological, aesthetic values with economic development opportunities and be credible, inclusive and evidence-based processes."
PDAC advocates that jurisdictions conduct comprehensive mineral resource assessments of land before final land management decisions are made to ensure that the economic potential of land is known and considered.
Mullan believes that Canada's ability to attract exploration investment and sustain its rate of mineral discoveries is contingent on accessing prospective land and knowing, with certainty, which land is available for exploration and development.
He also says government is reviewing federal environmental legislation, including the Canadian Environmental Assessment Act and the Fisheries Act, and resulting amendments will have critical implications for the future of the minerals industry in Canada with these types of reviews generating a sense of uncertainty for industry and investors.
PDAC works in partnership with national and regional associations to advocate improvements to the regulatory regimes governing minerals exploration and development to enhance Canada's minerals industry competitiveness on the global stage.