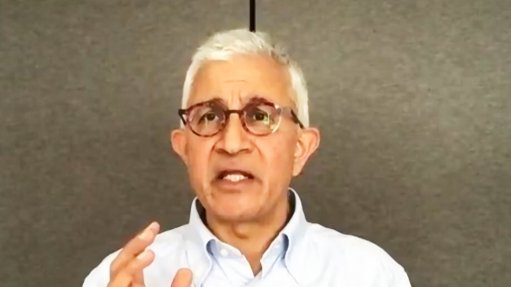 Presidential Climate Commission deputy chair Valli Moosa speaks during a green hydrogen webinar
Deputy chair of South Africa's Presidential Climate Commission (PCC) Valli Moosa has presented an upbeat assessment of the country's ability to position itself as a preferred global destination for foreign and domestic decarbonisation investment.
Speaking during a hydrogen-focused webinar on Thursday, Moosa warned that South Africa's prevailing high carbon intensity had the potential to undermine its long-term competitiveness as countries and companies became increasingly climate-conscious and sought to restrict trade in carbon-heavy products.
He argued, however, that South Africa had a range of comparative advantages that it should seek to exploit to secure its long-term energy security and create job-generating investment opportunities.
The country, Moosa outlined, represented a "low-hanging fruit" for the mitigation of greenhouse-gas emissions largely because these emissions were concentrated in its electricity sector and were produced by a single entity, Eskom, whose coal fleet was of an age where it needed to be replaced.
"If you know anything about the life stage of South Africa's coal power plants, then you would know that we are not looking at the distant future when the majority of the coal-fired power plants will reach decommissioning," Moosa reflected during an event co-hosted by EE Business Intelligence, the US Embassy and USAID.
The prospect of building new coal plants was "highly unlikely" in light of the fact that financial institutions were turning their back on the technology.
These factors, together with the country's world-class solar and wind resources and abundance of land, made decarbonisation more "manageable", which positioned South Africa favourably for attracting investment for rapid and cost-effective decarbonisation.
Other factors in South Africa's favour were its deep capital markets, its well-established skills base to manage large infrastructure projects and the fact that it was the world's largest producer of platinum group minerals, which were emerging as critical ingredients for the energy transition and the development of a large-scale green hydrogen sector.
Another factor in South Africa's favour was that there was a broad-based societal acceptance of the climate science, which was not the case in some other countries.
The risks, Moosa argued, lay in whether South Africa would move rapidly and efficiently enough to seize the opportunity being presented by the energy transition.
A failure to progress the transition as a "national project", involving government, business and civil society, could result in ongoing energy shortages and disruptions, as well as large-scale job losses in the coal value-chain should a just transition not eventuate.
"As agreed at the Job Summit in 2018, if we are to move systematically to a low-emissions economy it has to be done in a manner where it is taken on as a national project – national in the sense of more than just a government project or a private sector project."
Moosa argued that South Africa should prepare to use the platform of the upcoming November COP26 climate negotiations in Glasgow, Scotland, to reposition itself as the preferred destination for implementation of affordable decarbonisation projects.
He said that the PCC, which was established by President Cyril Ramaphosa in December to build national consensus on the transition to a climate-resilient society, was supporting government in its preparations for COP26.
"The big thing for South Africa going into COP26 is to present itself as the place where the world can reduce emissions rapidly if all of us do the right thing and if the international community comes in and supports the South African projects."
Eskom, which has participated in all PCC meetings, has established a Just Energy Transition Office, which is aiming to secure green finance for plans to repower and repurpose those coal-fired power stations that are scheduled for decommissioning in the coming few years.
It has been reported that Eskom is pitching a $10-billion Just Energy Transaction that would see it shut the vast majority of its coal-fired plants by 2050, while embracing renewable energy.