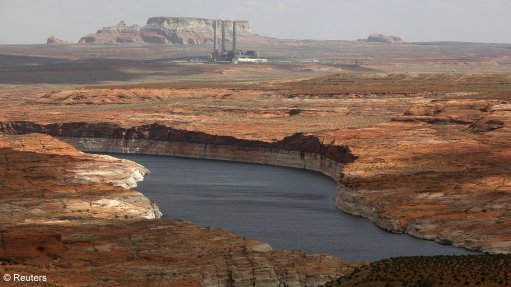 The Navajo coal-fired power plant can be seen near the Colorado river-fed Lake Powell outside Page, Arizona.
The outlook for the North American coal industry remains negative and earnings for coal miners could fall by more than 50% this year, says Moody's Investors Service.
The ratings agency says the coronavirus pandemic has worsened the outlook for the sector.
"Domestic demand for thermal coal for power generation will fall significantly in 2020 and continue to fall in the 2020s," says lead coal analyst Benjamin Nelson.
"Coal consumption will be crushed in 2020 with the industry taking much of the hit from the drop in electricity demand following outbreaks of coronavirus."
Moody's is forecasting US thermal coal production to fall by more than 25% to less than 500-million tons, and says that metallurgical coal production, used in steelmaking, will not offer the offset to declining thermal coal demand that it sometimes does.
This compares with the US Energy Information Administration's (EIA's) forecast that coal production will fall to 523-million tons in 2020, from 690-million tons in 2019, before rebounding to 550-million tons in 2021.
Moody's does not share the EIA's view that coal production will rebound next year and explains in a June 1 research note that additional shutdowns of coal-fired power plants and persistently low natural gas prices undercut those expectations.
Electric power generation represents about 80% of US coal demand. Power plants consumed about 539-million tons of coal last year, down from about one-billion tons in 2008. Moody's says it expects that a decline of more than 150-million tons will push consumption by power generators below 400-million tons in 2020.
"We expect a sharp and sustained slowdown in economic activity will result in lower economic growth, reduced demand for electricity and reduced demand for steel."
Further, Moody's says that increasing environmental, social and governance- (ESG-) related concerns among lenders will make it difficult for coal producers to shore up liquidity. Coal producers have taken steps to strengthen liquidity, but have not completed loan or bond deals in recent months, the organisation notes.
ESG-related concerns also limit the likelihood of significant assistance in the face of the coronavirus pandemic, as the US government directs financing toward industries more likely to rebound as the crisis eases.