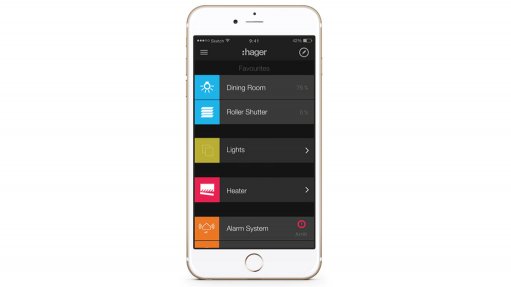 SMART SOLUTIONS ElectroMechanica's smart home solutions enable users to control and monitor their energy consumption from their smartphone
Being aware of how much energy one consumes is key in energy efficiency and management, and has the potential to significantly reduce energy consumption in businesses and residential households, says industrial switchgear, automation and energy efficiency product distributor ElectroMechanica (EM) sales and marketing director Richard Nobbs.
As such, the company has launched a range of energy efficient solutions that enable end-users to monitor and control all products that use electricity. With energy efficiency and management becoming a necessity worldwide, owing to energy shortages and harmful carbon emissions, EM – which imports only from established brands, with a focus on sustainability – has adapted to market changes to create energy efficiency solutions, Nobbs explains.
Energy Efficiency Innovations
EM's products supply electricity and monitor electricity consumption. It also supplies products with higher efficiency grades, but most products are geared for saving electricity in different forms, such as EM's occupancy sensor, explains Nobbs.
The sensor is typically placed in a communal space, such as an office bathroom, where there is no need to keep the lights on at all times. The sensor ensures that, once someone leaves the room, all lights are turned off automatically. "Simple products like that make a big difference," he says.
Nobbs predicts the future of energy efficiency and management to come in the form of automation, especially in a residential environment. As such, EM's products embrace automation, the Internet of Things (IoT) and prioritising comfort in the home. "EM's home energy efficiency solutions are comfortable, easy to use and designed to make life a bit easier while being able to control your electricity consumption."
EM has introduced a smart home solution, which is operated using an application on a device such as a cellphone. This enables the end-user to monitor and control consumption remotely from a dashboard. Smart metering also enables end-users to accurately see how much energy they are consuming.
Using the Internet to control the smart home solution allows for all data to be stored in the Cloud, which can be linked to any smart device such as a laptop. However, many functions can still be controlled through the smart home solution application without an Internet connection, allowing for energy consumption to be monitored in some way or another.
Nobbs also notes the ease of installation, with the smart home solution having been built for retrofitting and refurbishment. The solution can be installed by an electrician, while some functions can be installed without any assistance such as light switches that stick onto walls.
EM's innovate energy solutions began as a commercial venture for business but have been adapted to create efficient energy consumption for residential settings to make energy efficiency accessible and cost effective.
"IoT enables people to better control their energy consumption no matter where they are," Nobbs concludes.