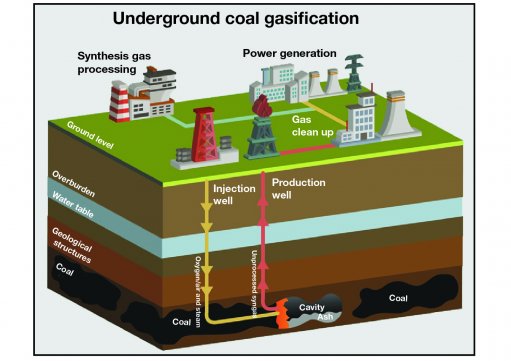 ATTRACTIVE ANSWER Underground coal gasification is an economically and environmentally viable option for mining deep reserves
Photo by: The South African Underground Coal Gasification Association
New coal mines will have to be developed in South Africa as existing mines exhaust reserves, while State-owned power utility Eskom, petrochemicals giant Sasol and new independent power produces (IPPs) must expand alternative production.
This is according to South African mining and minerals solutions company African Carbon Energy (Africary), which is headed by South African Underground Coal Gasification Association director Johan Brand.
Members of the company spoke at a plenary session, reviewing the energy and carbon capture and storage potential in South Africa, at this year's thirty-third annual International Pittsburgh Coal (IPC) conference held at the Cape Town International Convention Centre, in Cape Town, South Africa, in August.
The company noted that underground coal gasification (UCG) was a viable option to monetise economically unmineable coal, pointing out that less than 26% of South Africa's coal reserves are economically/technically recoverable with conventional mining methods.
New extraction technologies, such as UCG, as well as suitable uses and markets for low-grade, high-ash coal, are required before South Africa can use its vast coal resources to their full potential, states Africary's website.
The company's Theunissen UCG project in the Free State
is expected to put South Africa at the forefront of UCG by developing a one-billion-tonne coal deposit at Theunissen to fill a vital gap in the country's electricity supply.
Africary may become the world's first commercial UCG operator to supply electricity for baseload power supply, says the company.
"The product of this application will transform the face of coal mining and electricity production in South Africa to new future perspectives and heights. The project will be able to compete with coal-fired power generation without the need for any rebates and, with the increase in tariffs, electricity generation with UCG becomes cost competitive," says Africary.
The average yearly selling price of South African electricity rose by 60% from 2010 to 2015, highlights the company, and is set to rise further in the years to come, making power generation from gas produced by UCG competitive.
"Once UCG is seen to be commercially acceptable, opportunities will arise for polygeneration, using the syngas to make diesel, fuels or chemicals. UCG is not only safer, but also more economical and more efficient."
Working to register as an IPP with the Department of Energy, Africary is supporting a technique that was common several decades ago and holds several advantages over conventional coal mining, which has now become the mainstream.
The company has acquired prospecting rights for coal over an area of more than 300 km2 and has identified potential target areas for the establishment of a UCG project at a site located about 24 km north-northwest of Theunissen and 27 km south-southwest of Welkom.
The Theunissen UCG project will involve the gasification of about five-million tons of on-site coal over 20 years under an area of about 150 ha and will generate more than 50 MW (nett) clean electricity for supply to the national grid from an installed gross capacity of about 77 MW.
Africary further notes that South Africa's Integrated Resources Plan envisages a further 6 250 MW of new coal being required by 2030. "It is believed this will be totally inadequate if South Africa is to achieve higher rates of economic and industrial growth."
The UCG process employed at Theunissen will use an average of 35% oxygen-enriched air as agent feed to produce a clean synthetic gas with a heating, or calorific, value of more than 7 MJ/m3 at gas-engine intake, says Africary.
The company further highlights that UCG is an economically and environmentally viable option for mining deep reserves (200 m or deeper) and, as two-thirds of the planet's coal cannot be mined through conventional techniques, it is the most promising technology for the future.
"The future sustainability of energy in South Africa – whether based upon coal, gas, nuclear, or renewables – will depend on the ability of the government of the day to attract and fund large infrastructure projects. But, the consumer, who ultimately foots the bill, will be the deciding factor in determining what the energy mix of the future looks like," states Africary.

IPC Conference
The theme of this year's IPC conference was Coal – Energy, Environment and Sustainable Development and covered a spectrum of topics on coal technology, synthetic fuel and environmental issues. The topics covered energy and environmental issues, and technologies related to coal and its by-products. Over 200 technical papers and posters were presented throughout the conference.
Next year, the thirty-fourth annual IPC conference will be held in Pittsburgh, in the US, from September 5 to 8 at the Sheraton Pittsburgh Hotel.
By providing an open forum for discussion, the IPC conference aims to promote research activities that advance the economic benefits of coal technologies while greatly reducing their environmental impact.