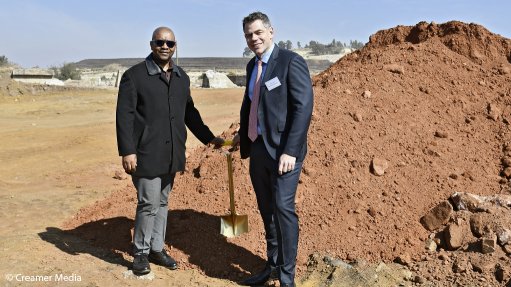 Department of Mineral Resources Regional Manager Siyabonga Vezi (left) and Pan African Resources CEO Cobus Loots at the official sod-turning ceremony for the construction of the R2.5-billion Mogale Tailings Retreatment project.
Photo by: Creamer Media Chief Photographer Donna Slater
JOHANNESBURG (miningweekly.com) – The official sod-turning ceremony for the Mogale Tailings Retreatment project on Gauteng's West Rand took place on Tuesday, July 25.
The R2.5-billion project, near Krugersdorp and Kagiso, received an eyes-on-the-prize send-off from the London- and Johannesburg-listed Africa-focused midtier gold producer.
"Where we stand today, 12 months from today, we'll have a brand new processing plant," Pan African Resources CEO Cobus Loots highlighted as he spoke to Mining Weekly on site in a one-on-one interview. (Also watch attached Creamer Media video.)
This is Pan African's fourth large-scale tailings plant in a project that is scheduled to be fully commissioned by December next year.
"With the support of government, the communities surrounding this area and all of you, Pan African has the opportunity of transforming this site into a shining example of what modern mining can be," Pan African chairperson Keith Spencer said in his address to attending representatives of government, technical institutions, finance houses, law firms, analysts and media.
Regarding the area's major gold-mining history, Spencer added: "The West Rand has produced over 2 000 t of gold from the numerous deep underground shafts and tunnels. Some mines in this area are over three-and-a-half kilometres deep."
Largely the same internal teams that completed Pan African's previous three quick-return tailings retreatment projects are undertaking the Mogale project, which is once again characterised by fast payback, low costs, big production uplift, long life and high ungeared return.
Loots estimates an all-in sustaining cost of $1 000/oz and a payback of three to four years.
The proven technology that will be deployed involves low unit cost hydro mining with low project execution risk at 800 000 t a month through a carbon-in-leach plant, which translates into a roughly 50 000 oz/y boost for a company with a 200 000 oz/y asset portfolio.
Mogale will consume some 10 MW to 20 MW of electricity, which has been allocated from State power utility Eskom at this point. But with significant success in generating renewable energy at its Evander and Barberton operations, the company will be looking to generate solar power for Mogale on site as quickly as it can.
As material from the dumps is processed, the land recovered will be cleaned up and rehabilitated over the 20-year life-of-mine.
Regarding the benefits the mine will bring to the people of Krugersdorp and Kagiso, Loots said: "We believe the project is going to change this area for the better. Certainly, it will create economic opportunity, employment and uplift the environment.
"The project now enjoys full support of all of our stakeholders, and we will not let them down," Loots affirmed.
The project's engineering, procurement, construction management contractor is SGS Bateman.