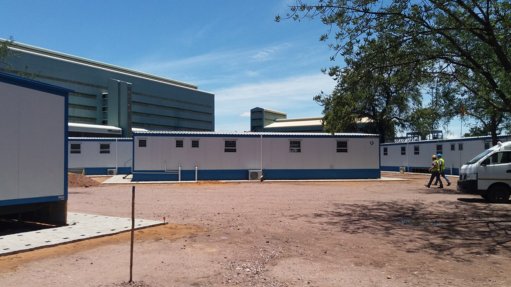 MINE-SITE OFFICES The South African mining sector has been Kwikspace's biggest customer
The remote locations of African mine sites represent a significant business growth opportunity for prefabricated modular buildings supplier Kwikspace, says Kwikspace sales executive Roberto Campos.
"There is a lot of opportunity for our product, particularly in remote areas where new projects are about to get under way across the African mining sector."
Kwikspace sees an accessible market in countries, such as Mozambique, where the company has built many sites for mining and gas operations and set up company branches, as well as in Zimbabwe, where it supplied facility structures earlier this month.
Campos is optimistic that the recent changes in political leadership and governance in Zimbabwe will yield more opportunities in the mining sector for the company.
Kwikspace has, meanwhile, successfully completed several large-scale accommodation projects in the South African mining sector, having provided accommodation for major miners Lonmin, Sibanye-Stillwater, Exxaro Resources, Harmony Gold and Assmang, besides others.
The company has subsequently earned a reputation as "a reliable and highly competent supplier of prefabricated housing", says Campos.
Kwikspace is currently involved in the roll-out of modular offices to thermal coal mine Mafube colliery's LifeX project – a joint venture between Anglo Coal and Exxaro – in Mpumalanga. The company will also construct offices at Exxaro's Belfast implementation project, in Mpumalanga; and site offices for its Grootegeluk coal mine's GG6 project, in Limpopo, which will comprise relocatable, customised buildings, equipped with furniture and air conditioning. The company is set to complete these projects later this month.
Campos enthuses to Mining Weekly that one of the company's goals is to provide clients with cost-effective working environments and living accommodation structures for mining employees.
Meanwhile, the company provides accommodation for all levels, from management offices to workers' accommodation. "We typically come in at the early phases of the project and assist with a full camp design. This includes accommodation units, ablutions, kitchens, diners, recreation, laundry and offices," says Campos.
Kwikspace provides housing solutions for clients depending on the project requirements, which can range from short-term rental contracts to bought, relocatable units or site-erected buildings, which is the company's latest technology.
The site-erected buildings are concrete-based permanent structures, comprising 120-mm- to 130-mm-thick panels, with a conventional building feel and look, but with the added advantage of excellent thermal performance which reduces heating and cooling costs. These structures provide permanent facilities which exceed the life-of-mine. While this technology is the latest in rapid infrastructure, it is more expensive than the relocatable structures. Kwikspace has, however, not used it for mine site accommodation, as clients prefer more affordable and quickly relocatable structures.
Campos nevertheless believes that the entry of site-erected buildings into the Southern African mining sector will eventually expose and encourage mining to invest in these long-term structures.