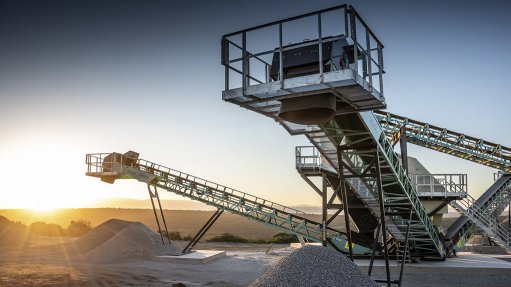 MODULAR IS SMART A modular solution enables companies to design a plant using components specific to their needs and site specifications, and add components as their needs evolve
Mines and quarries are conservative with regard to capital expenditure on crushing and screening equipment amid the current depressed economic climate, but there are gaps in the market where the cost of investing in a complete plant is warranted, says quarrying and mining equipment supplier Pilot Crushtec.
"It is a tough business environment in general. The shortage of work from State-owned company South African National Roads Agency Limited (Sanral) and a lack of major construction projects are impacting on demand for aggregates," adds Pilot Crushtec sales engineer Mark Reeves.
However, he is encouraged by Sanral's new N2 Wild Coast toll road from East London, in the Eastern Cape, to Port Edward, in KwaZulu-Natal. The upcoming upgrades to the N2 from Lovu River on the South Coast to eMdloti on the North Coast and the N3 freeway from Durban to Pietermaritzburg, in KwaZulu-Natal, also seem promising from a demand perspective. The upgrades are in the tender phase and a year away from starting, but are expected to yield contracts worth about R28-billion.
Owing to the cyclical nature of the mining, crushing and screening industries, Reeves says, unforeseen circumstances, such as breakdowns and increased production requirements, occur often and, if unprepared for these events, the financial implications could be dire.
Therefore, agility and adaptability are key to survival, he states.
"The smart money, in future, will almost certainly be on the modular concept. In a world where almost everything is a bespoke, client-centric offering, clients expect more convenient, predictable and reliable choices, and Pilot Crushtec delivers."
Custom designing a plant with off-the-shelf components and then scaling it to a project's requirements when necessary, without the hassle of major earthworks, civils, and construction, just makes sense in an ever-evolving industry, says Reeves.
Pilot Crushtec, which supplies global equipment supplier Metso's range of crushing equipment in Africa, has noted much interest recently in complete modular plants in South Africa and the rest of Africa.
This year, the company installed a 250 t/h crushing plant at a dolerite processing operation in King William's Town, in the Eastern Cape, comprising a full-scale quarry plant, using the Pilot Modular modules, including a jaw crusher, cone crusher, a vertical shaft impact crusher and two screening units, which are all interlinked using Pilot Modular conveyors. The complete turnkey solution was ordered in February and was manufactured, delivered, installed and commissioned within five months.
A similar crushing plant using Pilot Crushtec modular conveyors and structures was supplied to a project in the Democratic Republic of Congo.
However, demand remains higher for single units, compared with complete crushing plants. This is mainly owing to ageing fleet of crushing units in existing quarries, where crushing units have long past their operational life expectancy and the increasing operational costs to maintain these aged units is no longer financially viable. New replacement is the best alternative, says Reeves.
While the concept could seem tailored for larger companies in the mining and quarrying markets, smaller entrepreneurs and medium-sized companies have increasingly taken up the solution over the past few years.
"The modular solution makes perfect sense for enterprises starting off small, aiming to grow their business and creating sustainability within a challenging global economy," says Reeves.
By investing in unnecessary equipment, companies run the risk of tying up much-needed capital that could be better used elsewhere.
He says modular solutions for the mining, quarrying, construction and recycling industries are the logical choice for companies of all sizes.
A modular solution enables companies to design a plant using components specific to their needs and site specifications, and add components as their needs evolve.
From its workshop in Johannesburg, Pilot Crushtec can design and implement a solution that will process any material from 10 t/h to 500 t/h. The company keeps various component sizes in stock and can supply these in a week. If a component needs to be manufactured, a six-week lead time is required.
"Once the design is defined, all the modules and individual components are sent to site, lifted into place and bolted together – not unlike a giant Meccano set. Requirements can be tweaked at any stage during the design process, to ensure the correct layout, equipment and capacity to get the job done," Reeves explains, emphasising that modular plants are extremely scalable.
Pilot Crushtec has been supplying modular, full-scale quarry solutions for almost 15 years.
"We realised there was a gap in the market for a modular solution, studied the general assembly drawings from Metso and devised a way of making the concept work," states Reeves.
The result, he says, is the seamless integration of Pilot Crushtec's industry know-how, innovation and manufacturing capabilities with Metso's crushing equipment.
As with all the Metso products, the components come with a five-year and/or 10 000-hour extended equipment-protection services warranty on condition that Pilot Crushtec undertakes commissioning.