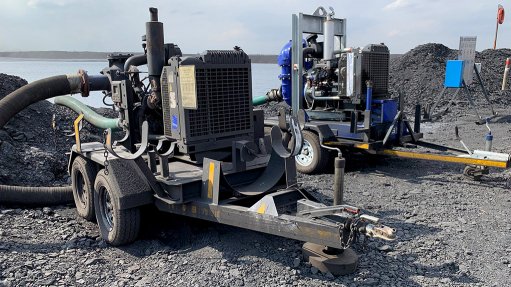 A MOVING PROPOSITION Customers value the manoeuvrability and flexibility of their on-site mobile pumps
The mobility of trailer-mounted pumps has earned them a reputation for versatility and efficiency, according to pump-leasing agent Integrated Pump Rental.
The company claims that its range of Sykes pumps in mobile configuration has encountered "enthusiastic" take-up in various markets, from large opencast mines to construction sites.
Moreover, Integrated Pump Rental Sykes product specialist Henru Strydom says that the company has begun to locally manufacture these units.
"Mobile pumps can deliver real economy through their ability to be moved where and when required. With their own wheel-base, it means that no infrastructure needs to be built before they can start working. They can also be moved quickly in an emergency," Strydom explains.
This applies not only to small units on roadworthy trailers, but to large dewatering pumps for deep, opencast mines. In a recent contract, Integrated Pump Rental locally manufactured a mobile version of its extra-high head Sykes XH150 pump for a diamond mine in the mountains of Lesotho.
This model is capable of dewatering a mine's pit to a depth of 250 m, Strydom says.
"The pump can run at full load for up to 28 hours on the tank of diesel that is included on the trailer configuration."
Next in the range are high head pumps, which can pump to a height of between 70 m to 150 m, while the medium head pumps can reach heads of between 50 m to 90 m. The contractors' package range comprises the smaller units which can be pulled by a bakkie or 4 x 4 vehicle. These are also licensed for travelling on public roads.
The robust, auto-priming Sykes pump range has features that protect against overheating or low oil levels, optimising uptime and ensuring low maintenance requirements. Internal components – including impellers, wear plates and shafts – are supplied in stainless steel as standard for high resistance against acids.