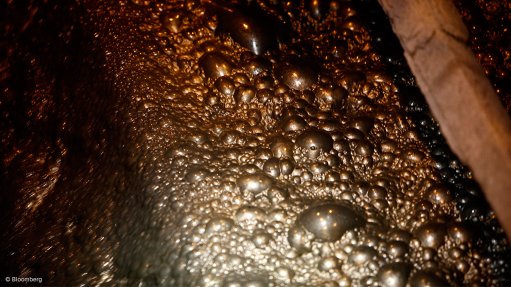 For the first nine months of the year, copper equivalent production increased by 8%, while copper production increased by 5% to 147 300 t
Photo by: Bloomberg
JOHANNESBURG (miningweekly.com) – Diversified major Anglo American recorded increases in production at its copper units, while coal and nickel production decreased in the third quarter, ended September 30.
The company on Tuesday posted a 6% year-on-year increase in production on a copper-equivalent basis in the third quarter of the year.
For the first nine months of the year, copper equivalent production had increased by 8%, while copper production increased by 5% to 147 300 t.
Production from the Los Bronces mine, in Chile, increased by 8% to 78 100 t. Anglo American stated that higher ore grades at the mine had been partially offset by the impact of a ball mill stator failure at the processing plant, which reduced throughput. Repairs are scheduled to be completed in the fourth quarter.
At Collahuasi, also in Chile, attributable production increased marginally to 58 300 t, which was owing largely to the improvements in plant performance following the completion of planned maintenance in the second quarter of the year.
The next major maintenance, to replace the stator motor on one of the two ball mills in Line 3, which account for about 60% of production, is planned for the first half of 2018.
Production at the El Soldado mine increased by 2% to 10 900 t primarily owing to a 13-day strike in the third quarter 2016.
Anglo American's full-year production guidance for copper has been tightened to between 570 000 t and 580 000 t of copper, which is down from previous guidance of between 570 000 t and 600 000 t of copper.
COAL
Anglo American's total coal production for the third quarter – combining export metallurgical and thermal coal – was 11.8-millon tons of coal, which was a 5.5% reduction from the 12.5-million tons of coal produced in the third quarter of 2016.
Export thermal coal includes export primary production from South Africa and Colombia, and excludes secondary South African production that may be sold into either the export or domestic markets.
The company's Australia-based export metallurgical coal production increased by 9% to 5.5-million tons as a result of the continued ramp-up at Grosvenor.
Anglo American said Grosvenor delivered strong production in the quarter through successful management of the challenging geological issues associated with
a first longwall panel, which is now complete. Mining of the second longwall panel is scheduled to start in December.
Thermal coal production decreased by 51% following the cessation of mining at Drayton.
The run-of-mine stock built up as a result of the rail outages following Cyclone Debbie in the first half of this year continues to be worked down, with year-end stock expected to be back to normalised levels.
Primary export thermal coal production from South Africa, decreased by 16% to 3.8- million tons.
Following a tragic fatality at Goedehoop on August 3, all of Anglo American's South African coal operations were put on a 100-hour safety stoppage for a detailed
engagement with all employees and contractors. This commitment to safety resulted in 400 000 t of production foregone.

Primary export production was also impacted by ongoing operational challenges at Khwezela's export pit and by Mafube transitioning to a new pit.
Production for State-owned power utility Eskom decreased by 15% to 6.8-million tons owing to the end of the mine life of the Eskom dedicated pit at Khwezela, a longwall move at New Denmark and pit reserve constraints at Kriel as it approaches the end of the life-of-mine.
Production at Cerrejón, in Colombia, decreased by 15% to 2.5-million tons owing to weather related stoppages.
Anglo American's full-year production guidance for export metallurgical coal remained unchanged at between 19-million and 21-million tons of coal, while the full-year production guidance for export thermal coal from South Africa and Cerrejón remained unchanged at between 29-million and 31-million tons. However, it is expected to be at the lower end of this range primarily owing to the operational challenges at Khwezela.
NICKEL
Meanwhile, nickel production was broadly flat, at 11 200 t, compared with 11 300 t in the corresponding period in 2016, while there was stability in the company's smelting operations.
Full-year production guidance remained unchanged at between 43 000 t and 45 000 t of nickel.