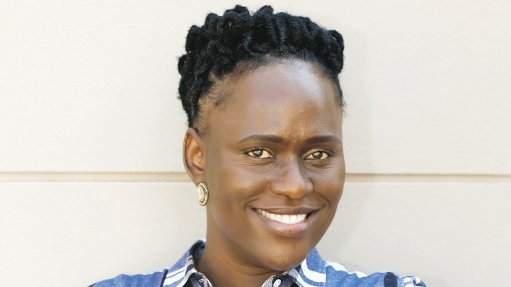 Full Name: Mirenda Boitumelo Moremedi
Position and Company Name: SHEQ Manager Black Royalty Minerals
Main Activity of the Company: Coal Mining
Date and Place of Birth: Born March 1978, Pretoria
Education: Degree in Environmental Management accompanied by certificates in business leadership programmes, project management and safety management
First Job: My experiential training was short and very exciting, I worked in a waste management consultancy company, which was professionally servicing the old City of Johannesburg waste management division, doing waste sorting at the old Linbro Park Landfill site and responsible for sorting and analysing different waste streams and sources.
Size of First Pay Packet: R800
Career Path To Date: I worked for Eskom Primary Energy Division, for almost a decade, working with coal mines. It was an exciting learning space where I was exposed to procurement processes, dealing with different emerging mining companies, conducting due diligence for more than 20 mines, interacting with different mining houses, and acquiring knowledge in ISO systems and safeguarding the power utility company from being exposed to mines that cannot supply coal without any interruptions.
Value Of Assets Under Your Control: (Market Capitalisation) I am a legal appointee on the mine. My manager and I work hand-in-glove when it comes to safety, health and environment on the mine. I am responsible for the lives of people on the mine, no life can be equated to capital, so this is a huge responsibility and one which I take most seriously. I am accountable for health, safety, and environment of every individual on the mine.
Number of People Under Your Leadership: (total number of employees) From the beginning of the mining operation to date (currently), I am responsible for 356 employees, which at times has been up to 453 employees under my watch.
Management Style: I am systematical, I love a step-by-step approach, I operate in an orderly manner and mingle with people on the ground easily. I use easy language to catch attention of my workforces, so that communication is always clear. I respect with full-force and like to think that I create an environment where it is reciprocal. I am a teacher, because I love winning and explaining to my team. I am an Aries, who likes to be presented with facts and I am also a meticulous record keeper.
Personal Best Achievement: I have a record of awards in different projects across categories such as Zero Harm and Customer Satisfaction. But what stands out is the day I was nominated and recognized for achievement in the 'Resilience' category. It felt so good. The reward was for the work done in coal logistics, working side by side with my project manager, in rehabilitation of coal truck roads in Mpumalanga as part of a social responsibility project. My project manager kept on saying: "I shall not work with any other person except you, your resilience is good." When I saw the monetary value that came with the award, I was grateful. I generally work more than expected in everything I do.
Person Who Has Had The Biggest Influence on Your Life: I spent majority of my life in a white family in Houghton Johannesburg, who influenced, inspired me and is the root to my success
Person Who Has Had The Biggest Influence on Your Career: No one specific – I have learnt so many things from various colleagues.
Person You Would Most Like to Meet: Richard Branson
Businessperson Who Has Impressed You Most: Richard Branson
Philosophy of Life: Never underestimate a woman, we can make the world go round.
Biggest Ever Opportunity: I have been so fortunate in my entire life from growing up to now.
Biggest Ever Disappointment: Buying a car on residual option agreement; Someone breaking into my house in a well secured area, and stole beautiful decorative ornaments which defined my personality and character.
Hope For the Future: I so wish the likes of Eskom could bring back the old coal supply arrangement which they had, for coal mining industries, such as "cost-plus mine agreements" to black-owned mining company.
Favourite Reading: Nothing specific
Favourite TV Programme: I am addicted to "local is lekker series, specifically The River and Gomora. They are like dessert to my soul, I can't stop laughing when I watch them.
Favourite Food/Drink: Give me papaya/pawpaw fruit, it changes my moods.
Favourite Music: Nothing specific
Favourite Sport: None
Hobbies: Nice stroll around the farms
Car: Any
Pets: None, but I love dogs
Miscellaneous Dislikes: Anyone who will want to wake-me up when I have my beautiful Sunday afternoon sleeps. Any billboard advertising junk food.
Married: (name of spouse) N/A
Children: (names and ages) 4 girls; Baki (18) , Tshego (16), Kgali, (9) & Bantli (3yrs)
Clubs: None