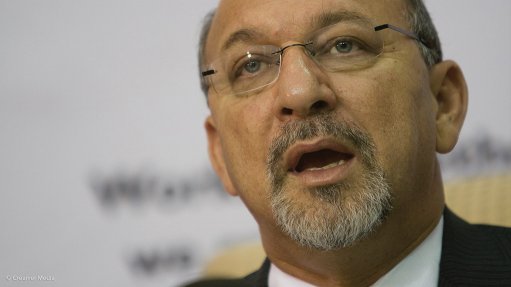 TREVOR MANUEL Will be the keynote speaker at this year's Joburg Indaba
Photo by: Duane Daws
Africa's mining elite will discuss tangible ways in which investors and industry owners can interact about challenges and opportunities in the mining industry later this month at the Inanda Club in Johannesburg, Gauteng, during the Joburg Indaba, states Joburg Indaba founder and event organisers Resources 4 Africa CEO Paula Munsie.
"The essence of this event – set to take place on October 14 and 15 – is facilitating conversations between industry players and stakeholders, rather than an exhibition of products and services," she states.
The keynote speaker is former South African Finance Minister and Minister in the Presidency for the National Planning Commission Trevor Manuel.
Mining entrepreneur and platinum miner Impala Platinum board member Bernard Swanepoel will chair the event. Since the first event in 2013, Munsie and Swanepoel have worked with specialist consultancy Thinkspiration, headed by Tracey Swanepoel, to organise the yearly event.
Munsie suggests that their combined efforts have promoted vision, entrepreneurial spirit and creativity.
Thinkspiration can make corporate strategy comprehensible by distilling it into a compelling visual story, while Bernard Swanepoel sets the tone for open, thought- provoking and often memorable conversation, says Munsie.
As founder of the event, Munsie states that she remains passionate and will continue to ensure a platform that is engaging but strategic in its aims to allow for open and honest dialogue among industry stakeholders.
Speakers from South Africa's gold industry include Gold Fields chairperson Cheryl Carolus and AngloGold Ashanti chairperson Sipho Pityana, as well as Sibanye Gold CEO Neal Froneman and Harmony Gold CEO Graham Briggs.
West African gold miner Randgold Resources CEO Mark Bristow will be the guest speaker at the preconference dinner on October 13, also held at the Inanda Club.
Further, the more than thirty-name list of speakers includes De Beers Consolidated Mines CEO Barend Petersen, Vedanta Resources CEO Tom Albanese, Anglo American nonexecutive director Jim Rutherford and Sasol Mining MD Peter Steenkamp.
Meanwhile, Munsie says the calibre of the speakers, the nature of the conversation and the atmosphere created at the event make the Joburg Indaba unique.
The event will facilitate open conversation with CEOs on how successful the mining industry in the region is in balancing conflicting needs and interests.
The final programme is decided in the final weeks leading up to the event to ensure it is current and, therefore, as relevant as possible, states Munsie.
This year, about 500 top decision-makers from the private sector and government are expected, alongside about 80 members of the press, she highlights, noting that attendance figures will have more than doubled from the inaugural Joburg Indaba.
"The indaba is strictly limited to 500 people, which means participants are able to engage with one another in an intimate and relaxed environment."
Munsie explains that the event was conceived out of the need to increase investment in the resources and mining sectors, particularly in Southern and South Africa.
The Joburg Indaba has established itself as an important platform where industry leaders engage in strategic conversations that are open, honest, bold, fresh and to the point, concludes Munsie.