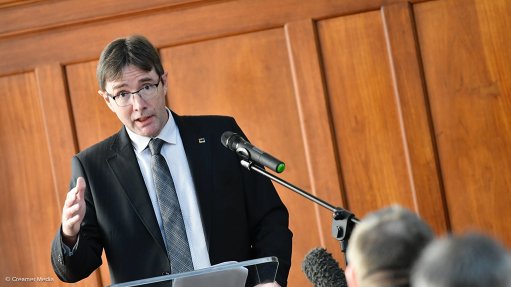 Minerals Council CEO Roger Baxter
Photo by: Creamer Media's Dylan Slater
JOHANNESBURG (miningweekly.com) – Similar "bullying tactics" to those that are causing significant disruption in the South African construction industry, are also affecting the mining industry, Minerals Council South Africa CEO Roger Baxter confirmed on Wednesday.
In a media briefing following the council's annual general meeting (AGM), his response to a journalist's question as to whether mining operations were being impacted by "mafia-style" actors who want to "skim something off of mining", was simply, "yes".
The construction industry has in recent months reported that projects worth billions of rands had been disrupted by parties seeking to secure subcontracts from contractors on site through threats of violence and intimidation, rather than through appropriate tendering processes.
Baxter asserted that the mining industry was not going to tolerate such behaviour, stating that all procurement processes would remain above board. "It's not going to be on the basis of chummy-chummy-type arrangements."
On the issue of community protests that also disrupt mining operations, Baxter noted that "the extent to which the [community] discontent is [owed] to activities of the mining operations themselves, poor service delivery by ineffective municipalities or simply deprivation and poverty is often unclear."
However, he added that, "communities have a lot of expectations . . . when you shut down a mine you get noticed, when you shut down a community hall, it doesn't necessarily make a difference if that municipality doesn't have programmes that can really work".
Baxter noted that the Minerals Council had taken two specific steps to address challenges pertaining to community unrest, the first being the board's adoption of a human rights framework based on the United Nations Guiding Principles on Business and Human Rights. The second is the establishment of two pilot offices in Mpumalanga and the Northern Cape, so that the council can "be involved in addressing these issues of underdevelopment and conflict on the ground".
He also noted that, through the Minerals Council's Coal Leadership Forum, a suggestion had been made for the industry to engage with the Department of Cooperative Governance and Traditional Affairs to try and find find workable solutions to some of the issues affecting communities. However, Baxter stressed that industry would not take on government's role and responsibilities.
In line with that sentiment, during his AGM address, Minerals Council president Mxolisi Mgojo commented that, while the industry had been engaging with municipalities and their integrated development plans in relation to the fulfilment of social and labour plan obligations, the process had been "frustrating."
"So many of the local governments in mining areas do not have any engineering capability, nor the ability to properly manage projects. The results are clear, with over R50-billion in unspent funds going back from municipalities to [the National] Treasury in 2017," he commented.
Further, he said the erroneous perception that "mining companies should 'carry the can' for local community development", has been reflected in the Department of Mineral Resources' recently published living and housing standard which, "effectively abrogates the role of municipalities in mining-related communities and places the onus on mining companies."
Baxter noted that the Minerals Council was working on the assumption that "mutually respectful relationships are an essential basis for coexistence between mines and communities".
To that end, the human rights framework will eventually become a mandatory part of the Minerals Council's membership compact.
Baxter noted that the principles within the compact are not "simply empty promises, but real commitments and practices that we, as a Minerals Council will uphold, and expect that our members will do the same".
He added that the council had terminated the membership of a former member – Koornfontein Mines – for breaching the compact. Baxter noted that the breach pertained to matters regarding State capture and would not comment further.
He also noted that the Minerals Council had declined membership to two prospective companies when due diligence revealed that they did not live up to the requirements of the compact and, moreover, could not make a commitment to do so.
Baxter affirmed that the Minerals Council's undertakings were a "clear indication that what we do and what we stand for as an industry will not be dictated by the lowest common denominator".