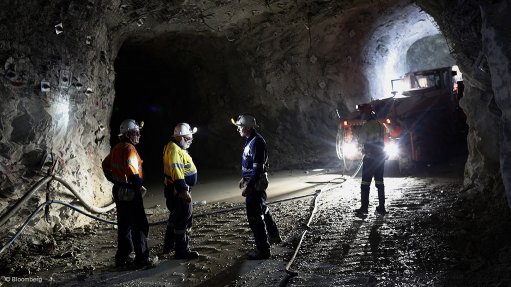 SAFETY UNDERGROUND Once the research project is completed it will assist the mining industry in being better equipped to deal with the ongoing challenge of keeping their workers safe underground
Photo by: Bloomberg
Research institutions, led by the Council for Scientific and Industrial Research (CSIR) and Japan's Ritsumeikan University, are in the final stages of a research project aimed at gaining a better understanding of mining-induced earthquakes.
Once the study is completed, it will assist the mining industry in being better equipped to deal with the ongoing challenge of keeping their workers safe underground.
The research project is funded by Japanese research programme the Science and Technology Research Partnership for Sustainable Development (SATREPS), and draws on more than a century of studies of mining-related and tectonic earthquakes by South African and Japanese researchers.
CSIR natural resources and the environment unit geophysicist and University of the Witwatersrand professor Ray Durrheim tells Mining Weekly that the research, titled 'Observational studies in South African mines to mitigate seismic risks', is a five-year project that started in 2010.
"We are in the final stages of this collaborative Japanese–South African research project, which is the largest and most ambitious mine seismology project anywhere, any time. "We decided to do this as mining-induced earthquakes pose a risk to workers in deep mines, such as South African gold mines, while large earthquakes that occur near plate boundaries, and occasionally in stable continental regions, such as Japan, also pose a risk to the public," he says.
Durrheim says the risk posed by seismicity in South African mining districts is exemplified by the seismic event, with a magnitude of 5.5, that occurred in the North West, on August 5, 2014.
"It was the largest seismic event ever to occur in a South African mining district," he says, adding that dwellings and other buildings in the nearby towns of Khuma, Stilfontein and Orkney suffered extensive damage.
The Project
The research project entailed installing acoustic emissions sensors, accelerometers, strainmeters and controlled seismic sources at mining group Sibanye Gold's Cooke 4 shaft, gold producer Gold Fields' Hlanganani shaft and AngloGold Ashanti's Moab Khotsong gold mine to monitor the deformation of the rock mass, the accumulation of damage during the earthquake preparation phase and the propagation of the rupture front, explains Durrheim.
In addition, a ten-station surface array of accelerometers was installed in the far West Rand mining district.
"The data that has been collected is being integrated into measurements of stress, in-stope closure and strong motion, as well as data that was recorded by the mine-wide seismic networks."

Durrheim says new insights into the physics of earthquakes have been gained, and technologies have been developed or adapted to assess seismic hazards and mitigate rockburst risks.
He tells Mining Weekly that some of the objectives of the research project that have been achieved so far include the drilling of 80 boreholes, with a combined length of about 2.8 km, at the three research sites; rock mechanical testing of core samples; acoustic emissions sensors, accelerometers, strain meters and tilt meters installed near capable faults; closure meters and strong motion sensors installed in stopes; and data being collected, processed and analysed.
The data collected by the surface seismic array is analysed using a Kinemetrics Antelope system supplied by SATREPS, he says.
Durrheim adds that SATREPS also supplied sophisticated automatic location software, developed especially for seismology unit the South African National Seismograph Network, which was used to successfully delineate the aftershock activity of the 2014 earthquake in the North West.

"The surface accelerograms, together with the SATREPS underground straingrams and in situ stress information, will contribute to revealing the mechanisms of an earthquake in detail, and the network will continue to be operated by seismological unit the Council for Geoscience after the termination of the project," he explains.
Furthermore, new insights into rock failure processes in deep and overstressed mines have been gained, Durrheim says, noting that it is still "difficult to predict whether forerunners that reliably occur before mining-induced seismic events will be identified".

He adds that progress has also been made in the development of several new technologies that will mitigate the risk posed by rockbursts, including the compact conical borehole overcoring stress measurement technique.
"About 20 South African technicians, practitioners and scientists have been trained to use the technique for routine monitoring and research in South African mines."
Further, a suite of tools to map the vulnerability of the hanging wall to strong motion has been created at CSIR, as well as an autonomous robotic platform that will eventually have the capability to gather information, scale the hanging wall and install support without exposing humans to harm.
Durrheim says the research project has largely gone according to plan over the past four-and-half years, despite many uncertainties and challenges. These included changes in mining plans and schedules because of geological factors, such as ore grades and the occurrence of earthquakes, as well as changes in mining plans because of business factors such as fluctuations in the gold price and industrial action.