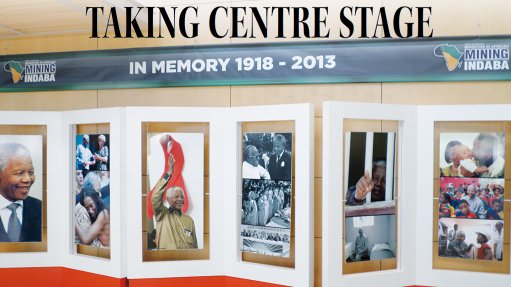 JOHANNESBURG (miningweekly.com) – The mineral resources sector remains "critically important" to the African continent, which is why the Investing in African Mining Indaba has consistently been regarded as an event of "paramount significance", says Mining Indaba MD Alex Grose.
This is also a key motivation for the at least 24 African government representatives attending the conference this year, as it will enable them to promote the mineral resources sectors of their countries, he says.
Despite the challenging market conditions facing the global mining industry, Grose highlights that companies worldwide regard the event as a "must-attend conference", where they receive information about potential mining business opportunities on the continent.
The Indaba, owned and operated by international business-to-business publisher Euromoney Institutional Investor, will be held from February 6 to 9, in Cape Town.
Mining Indaba sales director Fred Noce explains that the Mining Indaba was started in 1995 as a post-apartheid event to reintroduce international mining companies and investors to the potential that existed in the South African mineral resources sector.
The event was founded by former US-based International Investment Conferences president Sandy Lawrence, who realised the importance of attracting investment and mining companies to not only South Africa but also Africa through such an event.
About 100 people attended the first Mining Indaba, held over just two days, in Cape Town. However, since then, it has become a premier event on the global mining calendar, attracting thousands of the most important players in the sector worldwide.
To be better corporate citizens in Africa and provide them with insights into the key issues facing the industry, such as labour relations and mining-affected community concerns, the Mining Indaba has introduced an advisory board to advise the event organisers in this regard.
The board is chaired by steel producer ArcelorMittal South Africa chairperson Mpho Makwana, with board members comprising real estate management and development company Akhona Properties CE Noluthando Gosa and former National Union of Mineworkers general secretary Frans Baleni.
Noce tells Mining Weekly that, since its inception, the event has become an effective way of securing foreign investment for the continent, as it has consistently been attended by key players in the African mining industry, including investors, mining executives, government leaders and analysts.
He remarks that participants will discover the "immense value" in the African mining value chain and will gain some insight into the latest commodity trends, predictions and project developments. There will also be exhibitors showcasing the latest technologies and services available to unlock value in the sector.
"It brings together three integral industry players – mining companies, investors and African government mining authorities," adds Grose.
Countries that have confirmed the attendance of their Ministerial delegation to the Mining Indaba include South Africa, Ethiopia, Zimbabwe, Ghana, Zambia, Morocco, Mali, Rwanda, Gabon, Madagascar, Namibia, Nigeria, Kenya, Guinea, Burkina Faso, Mozambique, Liberia, Lesotho, Senegal, Côte d'Ivoire, Botswana, the Democratic Republic of Congo, Cameroon, Togo, Sudan and Angola.
Grose tells Mining Weekly that South African Mineral Resources Minister Mosebenzi Zwane played an important role in encouraging his peers in Africa to attend the event, hence, the expected attendance of a large number of African Ministerial delegations.
Noce says the Mining Indaba provides governments with a number of platforms, such as the African Mining Ministerial Forum, a think-tank-type session where countries' Ministerial delegations and mining companies discuss best practices in a private gathering.
Ministerial delegations can also benefit from sessions where Ministers inform delegates about the opportunities that exist in their respective countries' mining sectors.
"The Minister is deeply committed to the Mining Indaba and will not just deliver his keynote address and leave – he intends to attend several days of the conference to interact with as many stakeholders as possible during various forums, such as the Ministerial Symposium and the Young Leaders Career Development Programme."
Zwane believes that it is highly important to empower the youth in the South African mining industry – a key motivation for his attending the youth leaders session, Grose states.
South Africa's mining Ministers have addressed delegates at the Mining Indaba regularly since 1997, often setting the tone for what industry stakeholders can expect in the year ahead in terms of policy and legislative changes. These Ministers have included Penuell Maduna, Buyelwa Sonjica, Pumzile Mlambo-Ngucka, Susan Shabangu and Ngoako Ramatlhodi.
Meanwhile, for the second consecutive year, there will be country case-study presentations, which are 90-minute sessions where government officials, chamber of mines representatives and mining companies discuss mining opportunities in their particular countries. The countries confirmed to participate include Ethiopia, Côte d'Ivoire, Senegal, Mauritania, Mali and Niger.Kenya, Tanzania, Nigeria and Mozambique are also expected to take part.
JUNIOR FOCUS
The Mining Indaba is very much focused on promoting junior miners and Grose believes that the future success of Africa's mining industry is predicated on the success of such operators. The Indaba has, therefore, provided substantial financial assistance for junior mining companies, discounting their registration costs by up to 50%.
"Kael O'Sullivan is Mining Indaba director of investor relations and his job is to know all the mining companies attending the con- ference and the details of their projects, and connect them with relevant investors. He has established the . . . minerals, countries and project stages in which investors like to invest," Noce points out.
The Mining Investment Battlefield competition will provide an opportunity for 16 junior mining companies to pitch their projects to a panel of expert investors, competing for a number of prizes that will support the development of these new projects.
The juniors will pitch their projects on February 7 while receiving live feedback from the judging panel. The only criteria for entry is that the company should be a relatively new business currently developing one or two projects in Africa with a market cap below $50-million. One overall winner and one runner-up will be chosen.
OTHER HIGHLIGHTS
The event will also host its fourth annual Investment Discovery Forum, which is an exclusive gathering designed for accredited investment professionals and mining corporates eager to discover new investment opportunities, stay abreast of industry developments, discuss Africa's investment climate and create new relationships through programming and networking in a small environment.
The forum focuses on deal-making within the mining sector and brings together qualified investors and mining companies in a private setting. Investors receive access to detailed briefings on mining and exploration companies and attend mining company presentations directed towards their specific interests.
Grose recommends that delegates attend the Bulls vs Bears panel discussion, as the panellists will discuss whether the mining sector will recover in 2017.
During the Ensuring the Exploration Pipeline Continues panel, speakers will discuss the encouragement of investment in greenfield projects and successfully expanding existing operations.
Grose says the roundtable about financing infrastructure and projects through partnerships with Chinese State-owned entities (SOEs) will also be an important session, as it will examine the best way to partner with these SOEs to develop successful projects in Africa. The session will include an address by China-Africa Development Fund CEO Shi Jiyang and will provide delegates with an understanding of the current resources strategies of Chinese SOEs and what changes these will be undergoing over the next ten years.
The event has seen many speakers over the years, but a speech that mining industry veteran and retired South African businessperson and former CEO of gold miner AngloGold Ashanti Bobby Godsell delivered in 2007 is noteworthy, as he told conference delegates that he wanted to leave mining communities better off, with a physical environment ready for future generations.
He said there had been much talk in rich northern hemisphere countries of a "resources curse", an idea which suggested that countries with natural resources, such as oil, gas and solid minerals, were cursed by the presence of metals and minerals.
Godsell remarked on how this "curse" was not spoken of or evident in the history of most now-industrialised economies that had benefited enormously from exploiting the natural resources of their own soil, as well as resources gained from others, except perhaps by a self- selected few that stood to benefit from a stagnant status quo.
He also pointed out that, if the minerals were left in the ground, they would not benefit anyone. Therefore, he stressed that they had to be exploited and that exploitation should be implemented as part of a "cohesive strategy", which encouraged growth across the whole spectrum of an economy's potential.
Other prominent speakers who have addressed the conference include veteran iron-ore expert Magnus Ericsson, chairperson of global diversified metals and mining company Vedanta Resources Holdings Cynthia Carroll, gold miner Randgold CE Dr Mark Bristow, China business strategy, sourcing and investment company The Beijing Axis group MD Kobus van der Wath, corporate solutions provider Cadiz Corporate Solutions mining policy consultant Peter Major, anti-apartheid veteran and gold miner Gold Fields former chairperson Dr Mamphela Ramphele, former Western Australia Premier Colin Barnett, former British Prime Minister Tony Blair, and former Mozambican and South African First Lady Graça Machel.
"With this proud history of attracting some of the leading minds worldwide, I am confident that this year's conference will be just as memorable and impactful," Grose concludes.