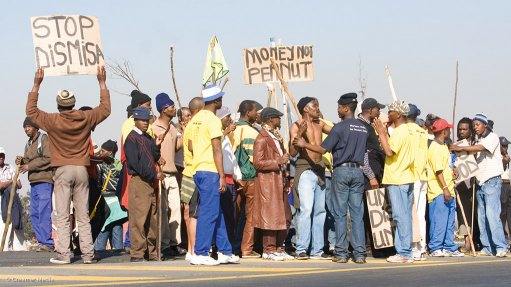 FORESIGHT IBM's Congos budget and planning tool conducts the necessary 'what if' planning scenarios that are critical in today's volatile mining environment
Photo by: Duane Daws
An international mining house is taking steps to standardise its budgeting, forecasting and reporting (BFR) processes in one of its metallurgical sectors, using technology and consulting company IBM's Cognos budget and planning tool – a solution provided by performance management company Cortell Corporate Performance Management (Cortell).
Cortell director David McWilliam reveals that the mining house faced several challenges with its previous BFR processes.
These processes are complex and subject to a number of obstacles, such as the volatility of commodity prices, the cost pressures of labour and electricity, and long planning cycles over the life of mines.

"The mining house followed a stringent selection process, which involved discussions with vendors and a competitive bidding process. IBM's Cognos budget and planning solution was on their shortlist from the start and came out on top for its ability to conduct the necessary 'what if' planning scenarios that are critical in the volatile mining environment," explains McWilliam.
"Cortell's experience in the mining sector, along with our multiple reference sites and our premier partner status with IBM, also helped to seal the deal," he adds.
The mining house required a tool that would not only standardise BFR, but also provide scenario planning. It also required a tool that would be interoperable with the mining company's existing systems, applications, and products for data processing (SAP) environment.
The Cognos budget and planning tool falls within IBM's Business Analytics stable and offers the required ability to explore multiple scenarios quickly and easily thanks to its in-memory analytics engine.
Deployed throughout the organisation, Cognos integrates seam- lessly with the mining house's SAP and offers a standard platform for calculating budgets, forecasting, and extensive reporting on all areas, says McWilliam.

After conducting a pilot implementation along with competing candidates, Cortell was selected to implement the complete installation at one of the mining company's metallurgical sectors. Once the full potential of IBM's solution was understood, the scope of the project was extended to include additional capabilities.
McWilliam explains that ensur- ing data integrity was a vital component of the project, which required careful extraction and transformation of data formats and metadata mapping. Five full-time on-site resources were dedicated to the project and delivered the fully implemented solution one month ahead of schedule, despite late changes to the project scope.

"The users within the mining company's metallurgical sector have been significantly impressed with the solution. For example, they can now easily ascertain what the effect will be across the board if the price of electricity increases, or if the price of a particular commodity decreases," notes McWilliam.
"This helps improve the accuracy of BFR processes going forward. The solution was also delivered on budget, which is no mean feat," he adds.
The mining house is currently looking to extend IBM's Cognos budget and planning solution to other areas of the business, concludes McWilliam.