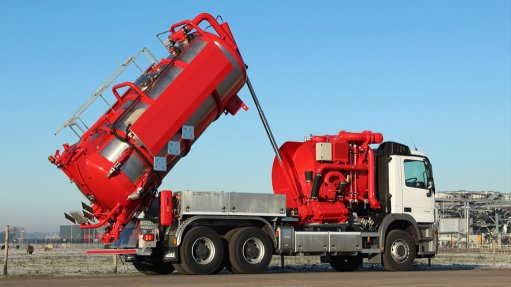 HANDLING THE LOAD Dickinson Group's state-of-the-art heavy duty vacuum truck is used for catalyst handling
South African-owned furnace and industrial services provider Dickinson Group of Companies has been appointed as an agent for Danish chemicals industry company Haldor Topsoe in Namibia, Zambia and the Democratic Republic of Congo (DRC).
Dickinson Group will promote, sell and strategically warehouse Haldor Topsoe's full range of VK sulphuric acid catalysts for mineral processing plants in the three countries. The agency will enhance Dickinson Group of Companies' capabilities in meeting clients' needs and requirements for comprehensive sulphuric acid plant solutions.
Dickinson Group was also recently awarded the agency in Africa by specialist construction material company CUMI-Prodorite of India. The CUMI-Prodorite brand offers highly specialised and integrated acid-resistant, anti-corrosion and surface protecting solutions. Dickinson Group will be responsible for turnkey supply and installation of the acid-resistant, anti-corrosion and surface protecting solutions in various mining, metals smelting and mineral processing plants.
The company will extensively develop its integrated service offerings to the mining, metal smelting, mineral processing, chemicals and heavy industrial sectors in sub-Saharan Africa through strategic partnerships with Haldor Topsoe, CUMI-Prodorite and other esteemed technology partners across the globe.
These two agency appointments have enhanced Dickinson Group's extensive range of specialised services, particularly catalyst handling services and acid-resistant, anti-corrosion and surface protecting solutions.
With these technologies on hand, the company completed numerous catalyst handling projects for some of Africa's largest copper smelters on the Zambian Copperbelt in the second quarter. Further, additional projects are expected to start in the DRC in the third and fourth quarters, says Dickinson group sales manager Brighton Mapiku.
Catalyst handling involves the unloading, screening and reloading of catalysts. A catalyst is a substance that increases the rate of a chemical reaction without undergoing any permanent chemical change itself.
For the projects, the company observed stringent quality assurance measures to avoid catalyst damage during the entire specialised catalyst handling process. The process involved monitoring vacuum suction pressure and catalyst velocity, while the ceramic ball layers are vacuumed separately from the catalyst. Personnel movement on catalyst beds inside the converter was also restricted and controlled.
Further, Dickinson Group was involved in the close monitoring of the catalyst loading process and even distribution of both ceramic balls and catalyst in accordance with the loading diagram.
The group is equipped to conduct any future maintenance and repair during plant shutdowns. This includes surface cleaning and preparation, welding, internal converter and reactor inspections and the assembly and de-assembly of vessels or converter internals.
Mapiku adds that the frequency of this process varies from plant to plant and depends on each plant's operational challenges, life of the catalysts and other technical matters. "Normally, a plant runs for 18 months on average before any repeat catalyst handling is performed on the same converter."
Sulphide ore smelting processes use air enriched with oxygen; these processes generate sulphur dioxide (SO2) and sulphur trioxide (SO3) off gases as by-products. When released into the atmosphere, the gases react with moisture or rain, resulting in sulphurous acids or acid rain. "As such, stringent environmental regulations have been developed for companies that generate SO2 emissions in their operations," comments Mapiku.
However, the long-term solution involves the conversion of the SO2 to SO3 for the production of sulphuric acid. To accelerate this oxidising reaction, catalysts are employed.
Dickinson Group's catalyst handling equipment and experienced and well-trained personnel are capable of executing catalyst handling and complementary services in the most challenging confined and hazardous working environments through strict health, safety and environmental legislative and procedural compliance.
"Catalyst handling is a highly specialised science that requires specialised skills and equipment with adherence to highly strict safety, health and environmental requirements and procedures," concludes Mapiku.