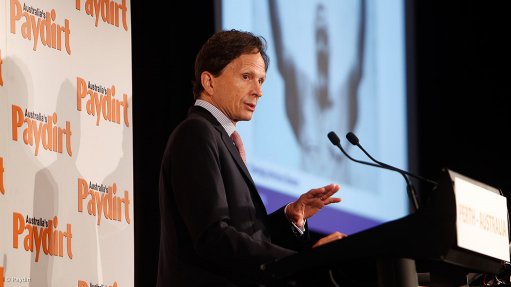 David Heymann
Photo by: Paydirt
PERTH (miningweekly.com) – Mining companies have been urged to become partners in the global fight against the Ebola epidemic sweeping through West Africa.
Speaking at the second day of Paydirt's Africa Downunder conference, in Perth, head and senior fellow of Chatham House's Centre on Global Health Security, Professor David Heymann, said that equal partnerships were important in combating the virus.
"I know that a lot of times mining companies think that they are being asked to do everything while the government does very little. Part of that is because mining companies don't spend enough time engaging the national governments in being equal partners and understanding what can be done."
Heymann told journalists on the sidelines of the conference that mining companies clearly understood the need for a healthy workforce, as proven by effective measures to prevent the spread of Malaria.
"It's important that mining companies understand that it's not only nationals at risk in this situation, but also expats working at mines. They can be out doing similar things to what nationals are doing, and can become ineffected."
Miners have been urged to invest in prevention strategies, and to look at how external factors could be mitigated.
"There is not quite the same understanding about the external factors that drive an epidemic and how these can be mitigated, or about how black swan events like this can occur and decimate local populations, the workforce and also have a major direct impact on logistics around mining companies, which is what is happening in West Africa at the moment."
The World Health Organisation (WHO) has estimated that some 1 900 people have died in the most recent outbreak of the Ebola virus, which has thus far been contained to West African countries.
As of this week, some 3 500 cases had been confirmed in mining-dependent Guinea, Sierra Leone and Liberia.
Heymann said that it would be in the interest of all companies operating in West Africa that the virus be contained and eradicated.
"It's not just enough to wash your hands and leave everything to local governments, but to make sure that companies, and not just mining companies, but all international companies, participate with governments [in combating the epidemic]."
Mining firms such as Rio Tinto, Vale, Vedanta, ArcelorMittal, Sierra Rutile and London Mining have all been forced to act since the deadly outbreak, with many miners having evacuated their staff.
In April, Rio Tinto donated $100 000 to the WHO to help fight the outbreak in Guinea.