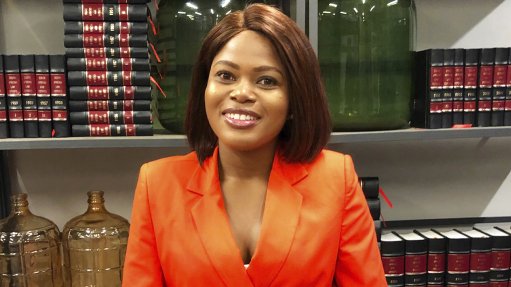 ITUMELENG MUKHOVHA Mining companies are increasing the use of automation, robots and operational software to overcome stagnant growth
Mining is transforming rapidly worldwide and becoming more automated, with the mining automation market expected to be worth $3.29-billion by 2023. Digital transformation initiatives in the mining and metals industry could generate $425-billion over the next ten years.
The mining companies that were digital first-movers have benefited from the use of a range of new technologies and project substantial increases in their earnings before interest, taxes, depreciation and amortisation margins, says law firm Baker McKenzie associate Itumeleng Mukhovha.
"The current value chain is being challenged by macroeconomic conditions and increasingly pervasive new technology. The digital transformation of mining companies is expected to define the mining industry's new normal," she says.
To overcome stagnant growth and deliver shareholder, customer and safety value, mining companies are increasing the use of automation, robots and operational software.
Modern robots and machinery can perform tasks with high degrees of autonomy and work for extended periods without human intervention. Autonomous operations and robotics technologies are expected to provide substantial value for the mining industry and stakeholders.
The adoption of mining automation has increased the number of strategic partnerships between mining automation equipment vendors and other communication systems providers. In June 2016, resources multinational BHP awarded a contract to industrial equipment multinational Atlas Copco for the autonomous upgrade of 18 drill rigs, says Mukhovha.
"Similarly, industrial services multinational Calibre Group has completed the first autonomous train deliveries across Rio Tinto's Pilbara mining operations, establishing the world's first automated heavy locomotives that haul ore hundreds of miles to port terminals. Rio Tinto's automated operations in Australia are reportedly intended to preview a more efficient future for all its mining operations and reduce the need for human miners."
Joint venture partners Rand Resources and AngloGold Ashanti have automated operations at the Kibali gold mine, in the Democratic Republic of Congo, to the extent that remote operators perform their functions from safe, air-conditioned cubicles and manage the loaders on the open stopes of the operation.
"Several mining companies have been exploring the use of virtual-reality tools and using information overlaid through augmented reality to support analyses, without having to trawl through siloed databases," says Mukhovha.
Visualisation technologies are lower down the agenda for mining industry digitalisation, yet 27% of companies said they had invested in some form of visualisation technologies, the Mining Maturity Scope Benchmark Survey found.
Canadian gold miner Goldcorp deployed smart sensors at its Éléonore mine, in Quebec, which has a multiservice Internet protocol network that provides secure wireless communications and uses a geospatial tracking system to ensure that workers are clear of planned blasting work and manage the mine's air filtration system.
Arizona-based miner Freeport-McMoRan has modified military-grade drones to monitor and evaluate rock faces in real time. These drones are used to survey highwalls, blasting operations, tailings, large mill buildings and power lines.
The different digital initiatives and projects could result in an improvement in safety and a reduction in carbon dioxide emissions by 610-million tons, with an estimated value to society and the environment of $30-billion, says Mukhovha.
"New technological trends in the mining industry offer the promise of nimble and profitable businesses, improved decision-making, increased employee empowerment, improved health, safety and environmental impact and the creation of an estimated $56-billion of additional value," she warns.
However, according to a study published by the International Institute for Sustainable Development, the productivity gains from new technologies will reduce the funds that mining companies contribute to government revenues in low-middle income host countries by $284-million.
Additional impacts of new technologies on low-middle-income countries will be the displacement of about 330 000 job opportunities that require unskilled and semiskilled personnel and a reduction in employment-related local procurement over the next ten years.