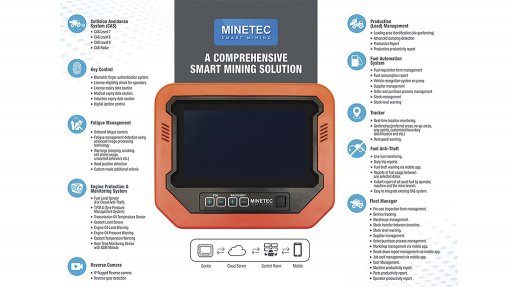 Minetec Smart Mining (Pty) Ltd is an international information technology company that aims to revolutionize the mining sector by providing smart, comprehensive solutions that optimize management, operation and communication processes. These solutions range from automated resource management to collision avoidance systems. We recognize the significance of the mining industry within our current global economic framework and employ specialized engineers that can critically analyze the risks involved in a given mining process to design customized solutions.
The following is a brief summary of some the services we offer:
Collision Avoidance System: Preventing loss of capital and productivity by reducing the risks of resource losses.
Key Control: Verification of operator licenses via biometric authentication for vehicular access and digital ignition control.
Fatigue Management: Management of operator state to prevent inappropriate operation of machinery.
Engine Monitoring System: Monitoring of internal machine parameters to infer the state of its engine and ensure its viability.
Fuel Automation System: Management of fuel allocation and expenditure to provide an easy order and purchase process and prevent fuel theft.
Fleet Manager: Monitoring of company resource management, stock levels and productivity to infer information about company performance and ease management.