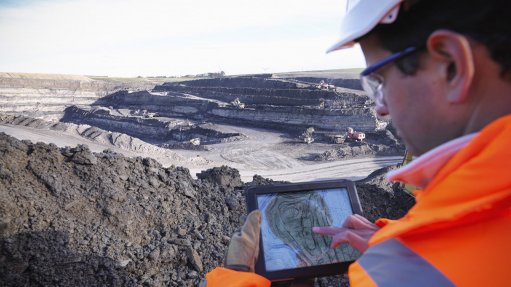 DOWN TO THE T client devices, such as desktops or laptops used by end-users, must be of adequate specification
With mining companies often operating in remote locations and having to adapt to poor communications infrastructure and sensitivities regarding data security, companies must have a deployment strategy that allows for flexibility in choosing which business operations should run on cloud-based systems and which should be kept on site, says software company SAP Africa industry and value adviser for energy and natural resources Shabir Ahmed.
Factors such as information security, safety, regulatory compliance and bandwidth determine the type of information that would need to be kept on site or hosted in the cloud, he adds.
"From a security standpoint, information of a sensitive nature, may need to be stored on the premises. From a regulatory compliance perspective, there may be an obligation to store data on site."
Further, owing to the fluctuation of commodity prices, mining companies are contending with tighter margins and searching for new ways of optimising business performance.
The industry is, therefore, attempting to reduce capital expenditure and focus on operational expenditure to take fewer risks and better control costs, he notes.
Ahmed adds that the urgency in adapting the work environment to mitigate the effects of the Covid-19 pandemic has enhanced the business case for mine operators to embrace cloud-based enterprise resources planning (ERP), however, organisations are sceptical about the benefits of switching from conventional to cloud-based ERP.
"If mine operators are to remain sustainable in the medium to long term, in an environment of skyrocketing operating costs, reduced profit margins and increased regulation, mines must adopt new ways of doing things."
He notes that cloud-based ERP has emerged as one of the innovations worth exploring in an environment where Big Data and the Internet of Things have become the two main drivers of operational efficiency.
While there has been increased adoption of other cloud-based systems in the industry mining companies have generally been slow adopters of cloud-based ERP.
Transitioning to ERP
Ahmed explains that there are three critical areas that mines should focus on to ensure a smooth transition to cloud-based ERP – the acquisition of critical components of cloud infrastructure, alleviating security concerns through additional controls, and choosing an ERP service provider and a suitable solution.
Components of cloud infrastructure that mines need to acquire will typically include hardware, virtualisation, storage and networks.
The cost advantage of transitioning to a cloud-based ERP stems from avoiding the need to invest in hardware and storage infrastructure such as high-end servers; however, cloud computing relies on robust communications infrastructure.
It is, therefore, advisable to invest in network infrastructure that can adequately manage cloud data loads without jeopardising business continuity, Ahmed stresses.
To alleviate security concerns, many companies also opt for a hybrid approach, keeping more sensitive data in a private cloud, while other data and is stored in the public cloud.
Most of the large mining companies in South Africa use a hybrid approach.
Cloud computing enables any company to transition from a cost model to a pay-as-you-go model.
Ahmed explains that cloud ERP systems generally have good security standards, but it is important that companies implement additional controls.
The CIO must work with business stakeholders to create a process where the information technology (IT) department and the rest of the business can work together to ensure cloud ERP security, he comments.
Service Providers
A mine should consider a set of integral competencies when employing an ERP service provider.
Essential factors, such as the integration of out-of-the-box, cloud-native architectures, consumer grade experience, applied intelligence, next-generation data management, open platform and security, determine the perfect solution for a company.
Ahmed cites IT services management company Gartner's 'Forecast: Public Cloud Services, Worldwide, 2016-2022, 4Q18 Update' report, which states that more than one-third of companies regard cloud investments as a top-three investing priority that is impacting on market offerings.
The report states that, as of 2020, more than 30% of technology providers' new software investments have shifted from being cloud-first to cloud-only investments. This means that licence-based software use will decrease further, while software-as-a-service and subscription-based cloud models will continue to rise.