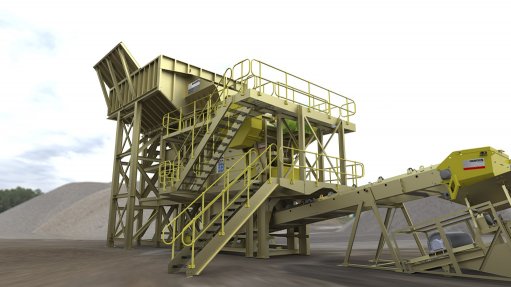 STEP CHANGE The mining industry is a lot more receptive to service-level agreements, owing to the ongoing shortage of skills in the industry and having to turn to original-equipment manufacturers to redo the work of alternative service providers
Mines and quarries are returning to original-equipment manufacturers (OEMs) such as mining and quarrying equipment manufacturer Osborn Engineered Products for service-level agreements (SLAs) amid tough economic conditions.
"Even repairs are being redirected to OEMs, owing to the great cost and risk mines endured when using non-OEM approved service providers," says Osborn sales and marketing director Vinesh Surajlall.
Osborn started driving SLAs late last year to boost preventive maintenance, subsequently securing agreements through which the company will undertake routine inspections and maintenance.
"We are happy with the progress of our SLA drive. The mining industry is a lot more receptive to SLAs, owing to the ongoing shortage of skills in the industry" notes Surajlall.
"SLAs with OEMs provide mines with the comfort that their crushing and screening equipment is being maintained correctly by factory trained technicians and with genuine replacement parts."
Johannesburg-based Osborn is encouraged by the increased international demand for its products.
"There is also increased global demand for our apron feeders, which is one of our flagship products," states Surajlall.
Osborn has executed numerous crushing and screening projects across Africa, Australia, Turkey, Albania and Kazakhstan.
Locally, Osborn has concluded a project for an openpit mine, where it supplied customised apron feeders for the transfer of material to the operation's processing plant.
The customisation was warranted by the confines of the operating environment in which the apron feeders needed to be installed. The project took four months to complete, with an extension project under way.
In June this year, the company also received an order for a customised solution for an Australian iron-ore mining project.
"This project includes the supply of a complete processing solution – crushers, structures and screening and conveyor systems – which complies with Australian specifications, as well as the mine's requirements," says Surajlall.
The solution was designed and manu- factured "in record time" and will be operational in the first quarter of 2020.
Moreover, in August this year, the company secured a contract for a standard Osborn crushing plant, comprising jaw and cone crushers, for a gold mine in West Africa and expects to complete delivery in January 2020.
The mining sector has contracted over the past few years, but the demand for new equipment still outweighs that for used equipment, says Surajlall.
In terms of rebuilds, Osborn is undertaking several projects for "leading mines" involved in chrome and platinum, as well as coal to a lesser extent, with its factory in Boksburg operating at double shift to meet demand.
"The Osborn brand is recognised for its reputation of longevity and efficiency. We thrive on innovative solutions supported by quality and service of our product, which is definitely driving demand. We are 100 years old this year and the capabilities of our products have been proven over the years," says Surajlall.