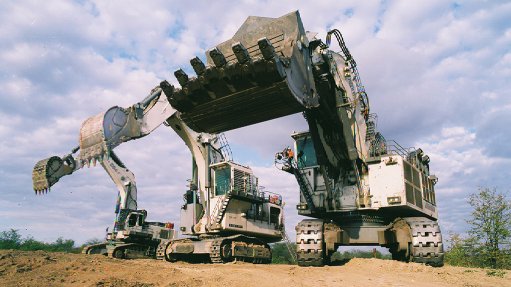 CAPITAL EQUIPMENT Mining contractors are in a position to decrease of increase the volume of their equipment according to need
Amid commodity-price pressure and high extraction costs, mining companies are looking to mining contractors for solutions to reduce costs, says surface mining company MCC Contract Mining CEO Justin Colling.

He says, as a result, contracting companies have been forced to reassess their operating methods, ensuring that the correct machinery is used and waste is limited.
"This puts the contractor in a position to be effective in the way it renders services to clients and it enables us to pass on those benefits to clients in the form of reduced costs for our services," he states.
Further, the current challenging environment has also forced contractors to review their business relationships with clients.
"The relationship used to be that of master and slave, where we were forced to take any price given to us," says Colling, adding that this meant that contractors were forced to include risk in their prices, which increased the cost for their clients.
However, he says contractors can now discuss aspects that could potentially increase the price charged by contractors with mining companies, for example, the way in which mining companies prepare their plans and the timing of those plans.
However, contractors also have to consider the tasks that they are hired to do, which are costing mining companies money, such as the dilution of ore and not producing the tonnage required, Colling adds.
"We are constantly having honest discussions. However, this is not only about the survival of the client or the contractor; it is about keeping the project alive so that both parties can benefit. We are the client's mining team, so we want to make the mining project successful and sustainable."
Role of Contractors
Colling tells Mining Weekly that contractors add a different source of capital to the mining value chain.

"If all the owners were to mine their own resources, funding would come from one sector only. But, with us also being involved, it adds another source of investment to the mix, as we bring in the capital equipment – therefore, the investment in the mining sector is generated from an expanded base."
He says the services of contractors are of benefit to junior miners.
"Usually, they have enough financial resources to enlist us to help them with building their process plants and do their development work. However, they prefer using contractors to raise money to invest in the capital equipment, which is what we do."

Colling further says that, if a mining company has its own equipment, it has to deal with the problem of disposing of the equipment when there are changes to volumes and if projects end.
"Mining companies are not in a position to easily decrease or increase the equipment volume. However, we have a range of equipment, readily available for a variety of commodities serving various clients. So, if one client decreases its project volumes, we can deploy that equipment elsewhere."
However, he says the slow down in commodities has reduced volumes and projects creating an excess of inactive capital equipment. There is fierce competition, as contractors are competing for the same limited number of projects. "Some contractors find themselves having to keep the plant going at very little or no profit at all for the sake of keeping their equipment going, but then you are burning up your assets. A lot of contractors will be under enormous financial pressure in the short to medium term, which may result in a few of them going out of business."
However, Colling says although the current contract mining and outsourcing industry is challenging, it will improve – "difficult periods are typical and normal if you are working in the commodities sector".
Future Outlook
He tells Mining Weekly, however, that big increases in commodity prices in the near future are unlikely. "The pressure will be on for the next 18 to 24 months, but we are hopeful that prices will improve."

Colling says, that to some extent, the current crisis is a blessing in disguise, as it forces contractors to find more cost-effective ways of performing tasks, better.
This focus is good for the industry and for South African producers, he notes, adding that an important advantage for Southern Africa is that it is not linked to one commodity only, with coal, platinum, iron-ore, gold, diamonds, copper and manganese at its disposal. "Our economy and business is not reliant on one commodity."
MCC started operating almost 43 years ago as a plant hire company. It currently offers a full range of services, such as planning, rehabilitation, topsoil stripping, drilling and blasting design, drilling and blasting, load and haul, as well as dewatering," says Colling.
"Performance is important to us as achieving performance excellence is key to providing a good service to our clients.This helps us retain our clients and maintain a sustainable business," he concludes.