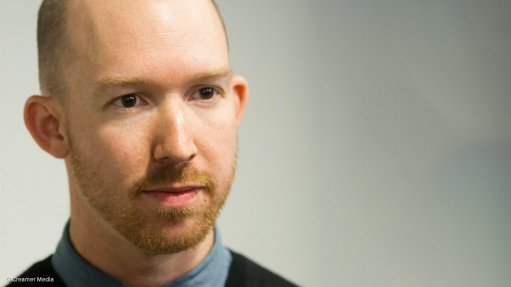 MATTHEW BURNELL It is important that good relationships are forged between the miner and the conservation groups
Photo by: Duane Daws
Building solid relationships between mining companies and conservation groups might be the key to an overall positive perception of mining operations – especially opencast operations that are prone to easily identifiable forms of pollution, such as dust and noise, says business law firm Fasken Martineau partner Matthew Burnell.
Burnell will present an environmental stewardship presentation at the third yearly Junior Mining & Exploration Conference and Exhibition in Bryanston, Johannesburg, in which he will discuss the provisions of the Conservation Act that impact on junior miners. The conference will take place from November 4 to 6 at The Forum, The Campus in Bryanston.
Burnell tells Mining Weekly that the legal ability of environmental and conservation groups to delay the start-up and operation of mines could impact negatively on mining operations, as it significantly delays productivity. Mining companies, therefore, need to consider their operations' impact on the environment before they proceed with any activity.
He adds that, during an environmental-impact assessment (EIA) process, all interested and affected parties must be consulted. "The independent environment assessment (EA) practitioner, who is appointed by the mining company to undertake the EIA, is required to conduct a public participation process," he says. This involves notifying relevant, interested and affected parties – including environmental and conservation groups.
Burnell further notes that, during the EIA process, conservation groups often adopt extreme positions that oppose development, particularly in terms of mining.
It is, therefore, important that good relationships are forged between the miner and the conservation groups, he stresses, adding that this is generally achieved through miners being transparent about the nature of their intended activities and taking the concerns of conservation groups into account when adopting mitigation measures to minimise the impact of mining operations.
Burnell points out, however, that from a commercial perspective, it might not be possible to implement every measure that a conservation group suggests. "In these circumstances, communication with conservation groups is critical."
He further highlights empirical evidence suggesting that if interested and affected parties are involved in developing a mutual solution to mitigate mining's impact on the environment, conservation groups are more likely to accept this solution, even if it is not what they initially bargained for.
Burnell notes that good relationships and transparency will provide conservation groups with an opportunity to approach mining companies with any concerns they might have, as opposed to directly informing the authorities, who could issue mining companies with directives, or to approach the court for an interdict to halt operations.
As many conservation groups have limited resources, they are likely to confront mining companies that are not complying with legislative obligations. Therefore, monitoring and reporting are critical to ensure that conservation groups are kept up to date with the necessary details of a mine's operations.
Setting an Example
Burnell points out that all mining companies, regardless of their size or operation, are required to comply with environmental legislative requirements.
This includes obtaining the relevant licences and complying with legislated thresholds, such as emissions thresholds.
He further notes that the implementation of environmental management systems, such as ISO 14001, are effective systems that assist miners in managing and implementing all environmental authorisations, consents or policies.
Burnell adds that the nature and extent of mitigation measures stipulated in an EIA will depend on the type of mining activity.
For example, opencast mining is known to result in elevated levels of dust and water contamination. "The environmental management plan (EMP) is, therefore, likely to include dust-mitigation measures, which can be achieved by implementing water-suppression measures along haul roads and operations. Similarly, water catchment and treatment prior to disposal is critical to ensure that surface water and groundwater are not contaminated," suggests Burnell.
He adds that monitoring the effectiveness of these mitigation measures is an important part of ensuring that the mitigation measures listed in the EMP are not only complied with but also effective in mitigating pollution or degradation around a mine.
Ongoing remediation is also a critical aspect of operating a mine. Burnell maintains that any area that can be rehabilitated should undergo remediation as soon as possible to prevent further damage to the environment. This should also reduce end-of-mine remediation costs.
Burnell adds that something as simple as exposed rock could lead to acid mine drainage, which leads to a costly and lengthy rehabilitation process.
He emphasises the importance of mitigating a loss of biodiversity around a mining operation, adding that a biodiversity offset can be considered by the EA practitioner conducting the EIA.
Burnell notes, however, that biodiversity offsets should be considered only in certain circumstances, adding that, if biodiversity is likely to be affected and is of critical importance, then environmental authorisation should be refused.
"When an EA practitioner believes that an offset is appropriate, it should be considered during the EIA."
However, he points out that biodiversity offsets are largely unregulated in South Africa. "Several guideline documents are in circulation, for example, the Mining and Biodiversity Guideline. These documents merely assist parties that are attempting to develop biodiversity offsets.
Burnell concludes that, unfortunately, there is no regulation and little certainty on the structure, manner and form of biodiversity offsets and, as a result, they have not been applied effectively in South Africa.