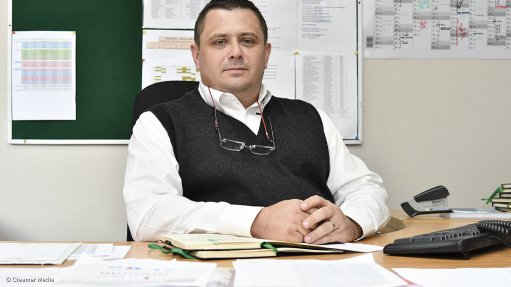 KRIS VERGOTE Multotec supports its products and regularly communicates with and visits clients
Photo by: Creamer Media's Dylan Slater
Minerals processing specialist Multotec boasts an entrenched presence in Mozambique, having operated in the country's mining sector for more than 15 years, and Multotec Mozambique regional manager Thinus Kruger tells Mining Weekly that there is potential for the company to grow further.
Multotec established its operating company in Tete province in 2012 and has an extensive installed footprint of processing equipment in the country. The company services various mines, including coal mines, graphite mines, a heavy minerals mine and a gemstone mine.
The Multotec Mozambique team also services Madagascar and Zimbabwe.

The company's largest client in Mozambique is a major coal mine, to which Multotec supplies a significant number of screen panels. It also supplies large numbers of cyclone spares, as well as wear lining equipment and samplers to clients. Since the start of this year, Multotec is also supplying the Multotec pumps range in the country.
The company's fully fledged Mozambique branch provides sales and service support across the country and Multotec Africa GM Kris Vergote notes that the company can bring in product specialists from South Africa to support employees who have a general product knowledge, when needed.
Multotec Mozambique offers field servicing, with field service employees visiting client sites daily to ensure that the company's products are performing, maintained properly and monitored; if there is room for improvement, the company can offer a solution for improvement to the client.
"It is not good enough to supply only a product – Multotec supports its products and regularly communicates with and visits clients," Vergote emphasises.
Moreover, Multotec Mozambique has a comprehensively equipped fabrication facility, which is being expanded to double its current size of 260 m2. Kruger points out that it should be completed this month. It also enables Multotec to do carbon steel, stainless steel and aluminium welding, as well as refurbish the company's equipment.
Notably, the fabrication facility provides high-density polyethylene (HDPE) piping. The Mozambique branch has secured many contracts to replace HDPE piping and is regarded as a leader in this area. Kruger says Multotec is one of very few companies in Mozambique that provides HDPE pipe welding for the mines and demand for the service is increasing. HDPE piping is quite complementary to the wear lining product range that Multotec offers, Vergote adds.
Multotec Mozambique is in negotiations with a coal mine to provide HDPE and structural fabrication, and is the only company that was awarded the tender to provide all the HDPE piping for another coal mine.
"We are also establishing a sandblasting facility and will be able to sandblast and paint our manufactured products according to client specifications," he highlights. This facility is expected to be completed in July.
Employment and Community Development
Vergote highlights that employing people from local communities is crucial for Multotec and there is a drive for the company's operations in Africa to be managed by locals.
Multotec Mozambique employs 46 locals and also appoints locals for short-term contracts as and when necessary.
"It is only fair to use your local community to try to uplift their lives," Kruger puts forward. He adds that Mozambicans have proved extremely willing to learn and work.
Training and skills development are done in-house. He notes that the company has sent Mozambican employees to South Africa to receive steel fabrication and welding training, for example, with the expectation that they can transfer the knowledge and skills to the branch's other employees.
Multotec Mozambique is also involved in several social community development initiatives, such as upgrading nine classrooms at a primary school in Tete.
The company will fit lights and fans in all the classrooms, as well as provide chalkboards. Five of the classrooms also need new doors and Multotec Mozambique will manufacture the doors locally. Kruger notes that this should be completed by the end of the third quarter this year.
Further, the local municipality has approached the company to assist with the welding of pipes, after several pumps and boreholes were washed away in the floods following Cyclone Idai, which hit Mozambique in March this year.
"We have invested a fair amount of money in Mozambique and I think it is proof that, when Multotec decides to become involved in a country, it is never for the short term, it is always with a long-term vision. We are prepared to set up and spend the money that is needed. We have also done that in other parts of Africa and it is a strategy that has worked well for us thus far," Vergote concludes.