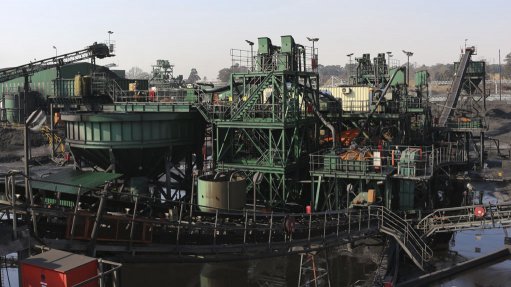 ALL ENCOMPASSING Fraser Alexander is able to service clients across the coal washing and processing value chain
Based on substantial growth over the past 12 years, mining and industrial services provider Fraser Alexander's minerals processing business intends to double its revenue in the next three to five years, says minerals processing GM Jaco Scholtz.
"We are particularly proud of this growth, considering that the industry has been in recession for a number of years. And we are bullish for the future," he enthuses.
Fraser Alexander's minerals processing business, established in 2005, focuses mainly on coal washing, and has become a significant market leader in South Africa's coal industry, adds Scholtz.
He explains that the global mining industry, including coal, is under pressure, with more mines being downsized, and advises that there should be a continuous drive to improve operational efficiencies.
"Revenue must go up and costs must come down," he says, adding that coal processing is a critical part of the value chain and that it can have a significant impact on operational efficiency.
"A small increase in yield could result in major impacts on profitability – this is what could keep companies afloat in difficult times."
Challenges facing the local coal industry include the uncertainty surrounding Mining Charter Three, which features increasingly complex regulations, as well as minerals and mining policies, which will have to be resolved to attract investment. As a result, many coal projects will remain on hold until these issues are resolved, notes Scholtz.
In addition, the rise of alternative power-generation sources, such as renewable energy, could pose a challenge for the coal industry. "Ultimately, coal's days as the dominant energy source are numbered. It will be replaced by natural gas and a blend of renewable-energy sources," he predicts.
He adds, however, that coal will remain the largest contributor to electricity generation beyond 2030 in South Africa and worldwide, as increased urbanisation will ensure rampant electricity demand growth. For developing countries that need to add capacity quickly, coal-fired power stations are essential.
Scholtz also notes that coal will continue providing baseload power in developing countries, as it is the cheapest form of energy and requires the lowest capital outlay.
Coal Processing Fraser Alexander, a 100% black-owned and 51% black-women-owned company, currently owns the largest installed coal washing plant capacity and the highest number of coal wash plants of any independent contractor in South Africa. It can provide operation and maintenance services for existing wash plants, or it can build, own, operate, maintain (BOOM), as well as build, own, operate and transfer (BOOT) the coal wash plants.
The company's service offering spans the coal washing and processing value chain, which includes crushing and screening, heavy-media separation, fine-coal treatment, flotation and filtration, as well as briquetting. It operates and maintains its own filter presses, and operates the only fine-coal, dense-medium plant in the country.
"We are able to accept run-of-mine coal, as well as discard dump coal for rewashing as feed to the plants . . . further extracting value from discard dumps. By washing coal, we provide a clean product for our clients, who sell to different low- and high-grade export markets, including the domestic thermal market, in which State-owned power utility Eskom has a majority share," Scholtz adds.
In support of the company's O&M, BOOM and BOOT service offering, Fraser Alexander can further derisk new projects by providing upfront finance to cover the design and construction costs. "This is an attractive model for small-scale miners and will ensure that our business grows in line with this emerging market sector," Scholtz explains.
Fraser Alexander's modular wash plants range in size from 200 t/h to as much as 600 t/h, although Scholtz notes that the company's plant capacity capabilities are not size-constrained, owing to their modular construction.
This helps reduce downtime, as well as the cost of engineering design, while enabling the company to be flexible in adding additional modules as production increases. Scholtz adds that civil and structural work can also be done simultaneously, resulting in significant time saving on the overall construction period.
Fraser Alexander plans to expand its business in Africa, aiming to build its presence in Botswana, where it currently operates a local company, Fraser Alexander Botswana. This expansion has added at least four potential opportunities to the project pipeline.
Largest Project to Date In January, Fraser Alexander was awarded a R1-million BOOT coal washing plant contract for a major South African coal miner. This is the company's largest project to date, and will increase the total number of plants it operates on a BOOM/BOOT model to six.
This contract will also increase the company's monthly processing capacity from about one-million tons a month to nearly 1.5-million tons a month. It also increases the number of employees at the company, from 234 to more than 300.
The BOOT coal washing project involves the construction of two 300 t/h modules within a dense-media separation coal washing plant in Mpumalanga. The envisaged plant will process 3.6-million tons a year of discard dump coal, with the potential to increase to over 4.8-million tons a year, spanning seven years of planned operation. The output coal will be sold to the export market and to the local thermal market.
Construction of the plant started in January and is due for completion in October, concludes Scholtz.