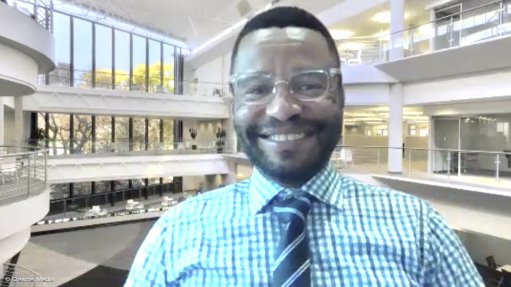 Industrial Development Corporation mining, metals and beneficiation head Thabiso Sekano.
Photo by: Creamer Media
JOHANNESBURG (miningweekly.com) – Mineral exploration should be incentivised so that South Africa's great mineral endowment can be optimally leveraged to lower unemployment, improve export revenues, and strengthen this country's gross domestic product (GDP).
That is the view of Industrial Development Corporation (IDC) mining, metals and beneficiation head Thabiso Sekano, who expressed the need for public and private sector participants to reach a point of effectiveness.
"We need an important relationship between government, funders such as the IDC, as well as other participants in the mining industry – the bigger mining companies out there – to try to establish some sort of a fund to encourage exploration in South Africa ," said Sekano, who spoke to Mining Weekly in a Zoom interview. (Also watch attached Creamer Media video.)
"If you go to a typical bank in South Africa, you will find that banks are not interested in funding exploration in the early-stage phase," said Sekano.
"Banks are more interested in projects that are about to be implemented and have been proven. But the challenge for a DFI such as ourselves, which gets involved in early-stage exploration projects, is that we cannot do this on our own. We need the private sector to be involved as well," he stated.
He expressed the view that private sector companies could be given tax breaks of some kind to encourage exploration because many minerals in South Africa are untouched.
On the economic benefits that could accrue to South Africa from exploration, Sekano drew attention to mining's role as a significant employment and supply chain flywheel.
"When we look at the real benefits of exploration, they include the long-term benefits of the project ultimately being implemented and this includes employment and regional economic development. What must also be taken into account is mining's contribution to South Africa's GDP," he said.
Mining Weekly: Last year the Economic Transformation Committee of the African National Congress said in its document on reconstruction and growth that "the listing of mining companies on the Johannesburg Stock Exchange should be encouraged and South African retail investors willing to invest in mining exploration should be incentivised, as is the case in other mining jurisdictions". Everybody seems to agree with this sentiment, so why is it not happening?
Sekano: It's a tough market, I think, and companies are focusing their energies on projects that have got quick economic benefit for them. Other companies are moving into other geographies like South America. But exploration is a very important thing for South Africa to have. Proper exploration comes with all those benefits of employment and all the economic benefits we need as a country. The issue of poverty and unemployment in South Africa is a very serious issue that I'm personally passionate about trying to fix and it is my job now, within the IDC, to try and ensure that we reduce unemployment as far as possible. I'm not absolutely certain why exploration is not happening at the pace that we expect it to happen, but in future, we should be able to incentivise companies to do exploration and to tap into South Africa's mineral endowment.
Mining Weekly: Small companies are not being supported on the Johannesburg Stock Exchange. Do you agree that investors should be incentivised to invest in small companies on the JSE?
Sekano: I agree. A typical small company or junior mining company faces serious lack of capital challenges when trying to list. This is a chief thing for the IDC to focus on - all these companies that would otherwise not get funding from anywhere else. It's extremely important that these companies are helped to overcome the challenges they are facing, and the IDC is there and playing that role. We have funded quite a significant number of junior miners in South Africa. One arm of the IDC funded those junior projects that were already banked, and we have another arm of the IDC that looks at projects still in the development phase. Call them greenfields or brownfields projects. We don't discriminate against size, so we're trying to do our part as the IDC and I think there should be a concerted drive overall to try and support these companies and that can be achieved by participation of other bigger companies in South Africa that have explored and they then transfer these assets to those smaller companies, which can then approach the IDC. The IDC can then study the projects they are looking at and try to assist. I think that the Council for Geoscience is doing its best to make sure that we've got information available. In terms of where we come from as a country, there was a lot of exploration done and that information is still there, but we can make it even more available so that people then can focus on certain areas such as the North West. We've only really focused on the platinum belt but there is a lot more on offer in the North West. For example, I'm told that the area close to the border between North West and Northern Cape has huge potential. That is information that is available at the Council for Geoscience. I believe that we should have a concerted effort to make this information even more available online so that investors can look at it and be able to form financial decisions from it.
Mining Weekly: What is your estimated value of the metals and minerals in the ground that are hosted by South Africa?
Sekano: I would agree with the estimate of Citibank some time ago that it is worth some $2.5-trillion. I would want to believe that hasn't moved much in terms of extracting those minerals out of the ground since Citi made that estimate. I would thus estimate that that figure still stands. If you take commodity cycles into play, and how commodity prices may have increased since that time, you may just find that if you adjust for inflation and all those things that the figure is higher than what was estimated.
Mining Weekly: Do you agree that the current time presents a huge window of opportunity for South Africa to explore for especially critical minerals?
Sekano: I agree. We should be and when we look at other countries on the African continent, we see that they are endowed with more minerals that we need. For example, let's talk about bauxite used in aluminium, which we are importing. But if you go to Central Africa, bauxite is there. But our challenge at the IDC is also looking into the future, such as, looking into the green hydrogen economy and the minerals that support that, and platinum is one of those minerals. We're also very interested in lithium, graphite, and all of the critical metals and when we come across good projects, we do give them the order of the day and we listen to the project promoters and work alongside them to get these projects to implementation point. This includes IDC entering into offtake agreements with South Africa companies. In the Northern Cape there is a copper project under way, which we are looking at together with Orion Minerals, for example.
For more on this topic, join Creamer Media in partnership with the IDC for a webinar - click here