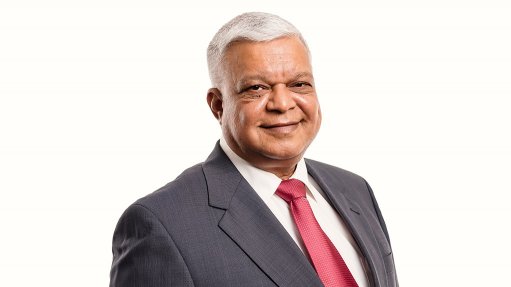 AVI BHOORA Demand for aggregate material from the quarrying operations that produce them will continue to decline
Demand for premium-grade aggregate material is dwindling and so is production from quarrying operations, says building material company AfriSam.
This comes as a result of private and public sector civil works developers needing to cut costs wherever they can amid Covid-19 challenges, which are exacerbating existing economic challenges.
Material categories for unbound pavement materials range from high-quality crushed stone – G1 and G2 – to subgrade quality material up to G7, or even up to G9 in some instances.
The material classes are defined according to criteria including gradation, Atterberg limits (the water content of a fine-grained soil), bearing strength, resistance to abrasion and density requirements for different applications.
AfriSam construction materials executive Avi Bhoora says demand for aggregates has been declining since 2017. He says the footprint which AfriSam serves used to have an estimated national demand of about 30-million tonnes a year for aggregates, which has since declined at a compounded annual rate of about 30% to about 10-million tonnes at the start of 2020.
He notes that even though the company's quarrying operations were permitted to scale up operations to full capacity during South Africa's Level 4 lockdown, the company has not been able to ramp up fully, owing to low demand in the aggregates market.
About five of AfriSam's 16 quarries are operating at full capacity. "We worked well below what was permitted," Bhoora highlights.
The construction industry, which is a major source of demand, as aggregates are used in roads and civil construction projects, is operating at only about 10% to 15% of normal average activity levels.
Bhoora explains that roadworks projects, especially, are starting up slowly, owing to onerous regulatory compliance requirements to ensure the safety of staff while Covid-19 remains a threat in the country.
While aggregate-requiring projects in the public and private sector have been slow to restart, the problem is being exacerbated for AfriSam, owing to developers' specification of lower-quality aggregate materials, when AfriSam specialises in G1 and G2 grade materials.
Bhoora says the specification for lower-quality aggregates provides incentive for more companies to start quarrying operations, with G4 and G5 aggregate material grades often found closer to, if not on, the surface.
This bodes well for competitiveness in the market, but it also provides incentive for illegal mining, he adds.
Illegal miners are not subject to compliance with regulatory requirements regarding safety, taxes and social development programmes, resulting in an unfair advantage over producers, such as AfriSam, which are fully compliant.
For example, the Department of Mineral Resources and Energy promulgated legislation in May that requires mining operations to have and implement a code of practice related to Covid-19, including measures to keep employees as safe as possible.
To this end, the company went "above and beyond" government's requirements, having developed an access-control procedure – with medical screening – well before the Level 5 lockdown started on March 26, says Bhoora.
The company established a medical helpline, issued self-screening questionnaires, provided masks and hand and surface sanitisers to all staff and implemented physical distancing measures.
AfriSam also distributed food parcels to feed six people a day, for three weeks, to all staff. The parcels donated by those employees who were not in need, were distributed to people in communities bordering some of quarry operations.
The company continued to support humanitarian organisation Rise Against Hunger, which helps feed vulnerable communities.
Going forward, Bhoora believes that demand for aggregate materials and, therefore, the quarrying operations that produce them, will continue to decline, as the public sector will probably not be able to afford to spend as much on infrastructure as it has in the past.
He says there will be more rationalisation and consolidation in construction industry to aid cost efficiencies.
Bhoora believes that the travel restrictions will push more airline operators to the brink of bankruptcy and, thus, more expensive air travel will ensue, forcing more companies to consider decentralisation and digital ways of working to cut costs.
He highlights that AfriSam has learned to balance cash preservation with skills retention and personnel loyalty to the company, which should help see it through the tough time that will persist for the foreseeable future.