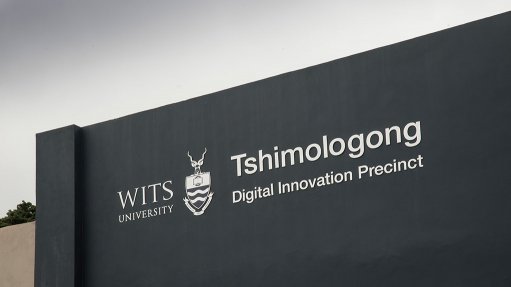 MINE.D HACKATHON The hackathon will be focused on mixed reality and the Internet of Things and will focus on improving the health and safety practices in the mining sector
Photo by: University of the Witwatersrand
The Tshimologong Digital Innovation Precinct in collaboration with open innovation firm RIIS, will host the Mine.D hackathon from November 3 to 5, at the precinct, which is located in Braamfontein, in Johannesburg.
The precinct, a project managed by the University of the Witwatersrand, is used for the incubation of start-ups, the commercialisation of research and the development of high-level digital skills for students, working professionals and unemployed youth.
Tshimologong CEO Lesley Donna Williams says that the hackathon will be focused on mixed reality (MR) and the Internet of Things (IoT) with a special focus on improving the health and safety practices in the mining sector.
She explains that this event is of "critical importance" owing to the fact that the next wave of growth within the mining sector will be enabled by technology.
Williams comments that while digital disruption has largely been consumer-facing, manufacturing industries and the natural resource sector are starting to take a human-centred approach, while also looking to technology to assist with improvements and innovative ways to move these industries forward.

"There is a significant role for technology to play within the mining sector. Looking at aspects of augmented reality (AR), virtual reality (VR) and IoT alone can bring massive benefit to mines by eliminating time wasted, improving decision-making and automating approaches and procedures. This, in turn, improves the quality of the work that people undertake," she highlights.

Williams recounts that the Mine.D hackathon was initiated to bring digital technology closer to age-old mining processes and to identify ways in which technology can assist, grow and improve general approaches to health and safety, but specifically the concept of zero harm.

RIIS managing partner Clen Cook remarks that Mine.D was not initiated to reinvent mining, but to look at how digital technology can be embedded into current processes to affect a better outcome for all involved.
"We are aware of the sensitivities associated with the mining industry and as a result want to look for ways that technologies, such as MR can assist in improving the health and safety for all involved."

He says with the help of digital technologies, the opportunities to extend the life span of mines is also much greater. Cook comments that developing technologies for extreme environments is often challenging, therefore through this initiative RIIS is hoping to collaborate and develop digital approaches that will address health and safety issues.

Mine.D is open to anyone who has an interest in developing technology approaches for the mining sector focused on MR and IoT in the health and safety space. Between 50 and 70 participants will be selected, after which the top three will be chosen to move forward.

"This is a very exciting hackathon and we invite anyone with an idea or interest in developing these technologies to participate," Williams enthuses.
Moreover, she stresses that Mine.D is open to strategists, technology entrepreneurs, innovators, developers and software engineers. "We recognise that Mine.D needs a collaborative approach and thus will not restrict those who want to participate."

Cook concludes by noting that as South Africa is a global leader in the mining sector significant opportunities exist for the country to research and implement digitally-inspired approaches and continue to lead as an innovative and forward-thinking mining front-runner.