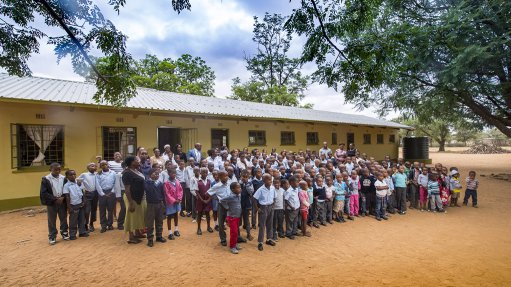 MEDIE PRIMARY SCHOOL ASSEMBLY Back to school for Medie primary school and back to work for Minergy Coal to provide electricity and computers to learners
An electrification project, which was started in 2019 during the construction of the Masama coal mine – owned by coal mining and trading company Minergy Coal – in Botswana, has progressed to benefit about 500 people in the village of Medie, situated in close proximity to the mine.
This project is now reaching its final stages, prioritising the electrification of the local Kgotla and offices, the clinic and in time the Medie Primary School.
The project was commissioned on May 15, 2019, to provide connectivity to the national power grid for the Medie clinic and community hall at the same time as electricity was connected to the mine.
As a consequence, connectivity is now reaching homes, while businesses – including shops, a hairdresser and a café – have recently opened, owing to power access, with running costs the responsibility of villagers.
During the initial stages of the Masama mine development, a skills audit was conducted to source and employ community members of the Kweneng local district surrounding the mine.
Now, two years later, 95% of the current workforce comprises local Botswanans.
Medie villagers, who were being contracted as mineworkers, did not have access to electricity and occasionally accessed power from diesel generators.
Minergy was informed by the Botswana Power Corporation (BPC) that plans to electrify Medie would begin only in 2024.
Tweaking its financial model, Minergy Coal decided to enter into a partnership with BPC to accelerate the process. This installation into the national power grid ensured that the Masama mine and Medie village could access electricity.
"When there is a mine operating just outside a village, the people from that village need to somehow benefit from that mine existing so close to their homes," asserts Minergy Coal CEO Morné du Plessis.
BPC appointed a contractor and Minergy provided the funding to install the necessary infra- structure in the village for connectivity and access to the grid.
Minergy Coal, which last year upgraded the village clinic into a health post, installing plugs and lighting, is continuing to grow the "symbiotic and mutually beneficial relationship between the village and the mine", Du Plessis emphasises.
A committee has been established between the mine and Medie's local council to proceed with plans to bring electricity to the primary school; further plans are now in the works for Minergy Coal to provide the school with computers.
The Covid-19 pandemic delayed the execution of this project. Du Plessis tells Mining Weekly that the electrification of the school should be completed in the next twelve months.
The company has also focused on skills development in Medie during the past two years.
A team has been trained to erect boundary fences, while another was trained to construct trenches to prevent soil erosion. Both were appointed to erect boun- dary fences and construct trenches within the mining area.