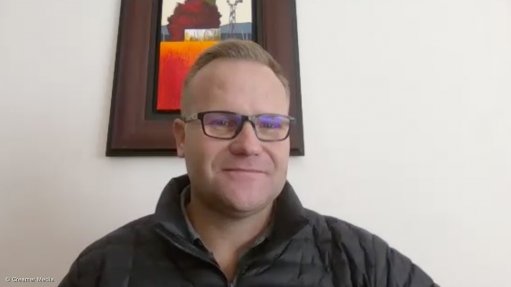 ABB regional sales manager mining for Africa and Australia Erik Pretorius.
Photo by: Creamer Media
JOHANNESBURG (miningweekly.com) – If the world were to electrify every mine truck, it would stop 198 000 t of carbon dioxide (CO2) a day from entering the atmosphere, which equates to a single electrified mining truck eliminating what would take 46 000 trees to absorb.
That mammoth disruption-free decarbonisation benefit was driven home firmly this week by ABB regional sales manager mining for Africa and Australia Erik Pretorius, who told Mining Weekly in a Zoom interview: "There's a strong business case for electrification whilst also keeping operations going on a daily basis." (Also watch attached Creamer Media video.)
A trolley line only 700 m long at Boliden's Aitik mine in Sweden saves 830 000 litres of diesel a year and reduces greenhouse gas (GHG) emissions by up to 80%. Mining Weekly understands that this full-on electric and digital project has been visited by South African mining company board members who are keen to replicate what has been done 100 km north of the Arctic Circle.
Moreover, at Canada's Copper Mountain mine, close to the town of Princeton in British Columbia, a new openpit trolley solution is being developed to take 41 000 t of copper equivalent a year out of the pit and into the plant.
Meanwhile, in South Africa's Limpopo, Anglo American's 510 t nuGen™ zero-emission haulage system is attracting global attention by innovatively showing the world that zero-emission haulage solutions and end-to-end integrated green hydrogen fuelling can elevate platinum group metals to a new high level of global respect.
News breaking this week is that Anglo has struck a deal with creative engineering firm First Mode that envisages the decarbonisation of Anglo's global fleet of 400 haul trucks, as well as providing refuelling, recharging, and facilitation of hydrogen production.
In outlining the ABB Ability™ eMine solution of reducing CO2 emissions, increasing energy efficiency, reducing capital expenditure, improving overall mine performance and protecting mineworker health and safety, Pretorius had this to say: "It does not stop with just electrifying trucks or going electric in the mine. It's a fine-tuning and optimisation around not just haulage, but the complete process."
Mining contributes roughly 7% of annual global GHGs. At a time when the Paris Agreement and related regulations and legislations are kicking in, mining has no option but to transition.
Contributing to GHGs associated with producing the raw materials required to eliminate them is a paradox that mining companies, often under pressure from shareholders, steer clear of by opting for sustainability.
These are some of the questions put to Pretorius:
Mining Weekly: What benefit has ABB's eMine technology brought to your mining clients?
Pretorius: There are three prominent benefits that eMine brings to our clients. The first is health and safety. The second is performance and productivity improvements, and the third is sustainability itself. We promote the improvement of miners' health through better air quality underground specifically and less noise than diesel machinery. Electric trucks run at higher speeds with quicker turnarounds, which improves haulage performance. There is sustainability in terms of lower environmental impact and reduced greenhouse gas emissions. And a fourth benefit, although potentially a softer benefit but a crucially important one and a topic that's reared its head in Europe that's certainly spilling over into Africa and Australia, is attracting new talent. We have a younger generation that want to work with companies and for companies that have a purpose, that think about future generations, that consider climate change. These are not nice-to-haves as far as they're concerned. These are actually licences to operate and they want to work for companies that are modern, digitalised 4.0 companies.
How complex is it to retrofit ABB Ability™ eMine to existing mining operations?
We need to be sensitive to the fact that ABB Ability™ eMine addresses the complete mining value chain, complementing, or superimposing or gradually replacing existing infrastructure. Whether we're talking electric trucks or digital systems to run the complete chain more efficiently, none of the eMine components can afford not to integrate to what already may be in place.
Is an 'ecosystem' created for related solutions and technologies?
eMine ties the new fleet of electrified trucks into an energy management system that syncs it to the overall way in which the larger operation consumes and manages its electricity and aims to reduce the overall consumption or at least smooth it out, despite the fact that we've just added the brand new potentially electric fleet to an operation. The ecosystem that eMine rides on quite strongly is a base layer of digital integrated solutions that manage electricity at an operation.
Does it foster cooperation between original equipment manufacturers (OEMs) and key technology suppliers?
Right now, ABB is calling for a lot more collaboration between OEMs and key technology suppliers. Partnerships and co-creation of solutions with the OEMs and mining companies and governments is needed to fully integrate electrification into the mining industry.
Where to next for ABB and mining?
Right now, eMine fast charge is a groundbreaking pilot project for us. It's a fully automated electric charging system for mining trucks. It's designed for the fastest charging in the harshest environments. It is easily installed anywhere and charges at the highest power available, which minimises downtime and improves safety.