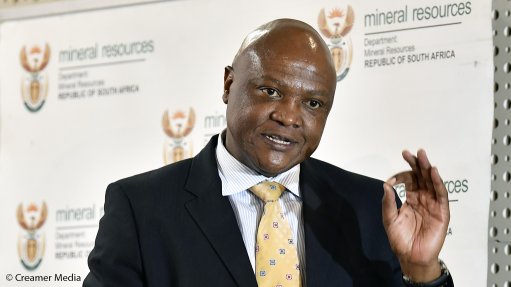 Department of Mineral Resources (DMR) chief inspector David Msiza
Photo by: Creamer Media's Dylan Slater
Following the notable regression of mine health and safety in 2017, which resulted in the death of 90 mineworkers, the Department of Mineral Resources (DMR) chief inspector David Msiza on Friday said there were 10% fewer fatalities – 81 – in 2018.
As health and safety is integral to the long-term sustainability of the mining sector, Msiza said the DMR remains hopeful that the improvement in 2018 signals a "much-needed turnaround in fatalities and that mines will continue to prioritise this issue moving forward".
Of the 81 fatalities recorded in 2018, 40 were in the gold sector, 12 in platinum and nine in the coal sector. The remainder of the commodities mined in South Africa accounted for a collective 20 fatalities.
The platinum sector showed a significant decrease of 59% in the number of fatalities, from 29 in 2017.
However, three disasters, defined as an accident where five or more employees are killed, occurred in the gold and copper sectors last year. Seven employees died in a seismic induced fall-of-ground accident at Sibanye-Stillwater's Driefontein gold mine in May 2018.
In the following month, five employees lost their lives in a heat-related accident at Sibanye's Kloof gold mine and six employees lost their lives in a fire and explosion related accident at Palabora Mining Company's copper mine in July 2018.
Inquiries into each of the disasters are under way to assess the root causes and identify the necessary remedial action, Msiza said.
To date this year, only five fatalities have been reported, compared with 14 during the same period in 2018. This, Msiza noted, translates into an improvement of 69% year-on-year.
Meanwhile, the mining industry also achieved a 12% decrease in the number of occupational injuries, from 2 669 in 2017 to 2 350 in 2018. Most of these injuries were related to repeat accidents categorised as falls of grounds, transportation and mining and general types of accidents.
Further, the number of annual medical death reports submitted to the DMR increased by 8% from 902 in 2016 to 975 in 2017. Medical deaths reported from the gold mines decreased from 26 in 2016 to 15 in 2017, while the number of medical deaths in the platinum mines increased from five in 2016 to seven in 2017.
Medical deaths reported by coal mines decreased from two in 2016 to one in 2017. There were no medical deaths reported from diamond mines in 2017 compared to one medical death reported in 2016.
Iron-ore and all other mines reported one medical death per commodity in 2017, whereas there were no medical deaths reported in 2016.
Medical deaths from chrome mines have remained unchanged with one case reported in 2016 and one in 2017.
Meanwhile, the number of occupational diseases reported nationally has shown a decrease of 3% from 4 632 cases in 2016 to 4 483 cases in 2017. Noise-induced hearing loss cases increased from 966 in 2016 to 1 141 in 2017, while reported silicosis cases increased from 635 in 2016 to 652 in 2017.
Msiza lamented the increase in silicosis cases; however, there was a slight decrease noted in tuberculosis (TB) cases reported, these were at 2 580 in 2016 and 2 247 in 2017.
Msiza further emphasised that stakeholder collaboration remains critical, and that mining industry leaders must continue their commitment to drive the implementation of the milestones set at the Mine Health and Safety Summit, held in October last year, to improve occupational health and safety performance in the industry.
As part of its commitment to continue engaging and collaborating with its social partners through the Mine Health and Safety Council (MHSC) and Regional Tripartite Forums, Msiza on Friday said that the DMR has, through the MHSC, established a task team comprising the DMR, the council, the Council for Geoscience (CGS), the Minerals Council South Africa, the National Union of Mineworkers (NUM), the Association of Mineworkers and Construction Union (AMCU), Solidarity, UASA and the South African Institute of Rock Engineers (SANIRE).
Through inspections, TB and HIV/Aids programmes will be evaluated to ensure improvement.
In November 2018, the DMR also issued two directives to the South African mining industry, with the first directive issued to eliminate fire, heat and oxygen deficiency related accidents, especially when persons gain access into abandoned or old mined-out areas underground.
The second directive was issued to eliminate rock-burst and rock-fall related accidents, specifically when pillar extraction or removal are performed at a mine.
According to Msiza, the department intends to monitor and enforce compliance through inspections and audits to ensure the implementation of these directives.
As part of initiatives to combat seismic and gravity induced fall-of-ground accidents, the department, in collaboration with the Mining Qualification Authority (MQA), MHSC, CGS and SANIRE, has identified 40 learners to be trained in the fields of rock engineering and seismology.
"During 2019 and beyond, we will continue to engage with the executive management of mining companies to discuss their strategies to prevent fatalities, injuries and diseases," Msiza said.
Workshops with health and safety representatives to train and coach them in exercising their rights and powers as stipulated in the Mine Health and Safety Act (MHSA) will continue.
Meanwhile, the Minerals Council said, at the same event, that it remains concerned about the industry's safety performance, and particularly highlighted the number of fatalities as a result of industrial accidents.
Nevertheless, speaking on behalf of the Minerals Council, VP Andile Sangqu noted that "this improvement [in fatalities in 2018] would not have been possible if all tripartite partners, including government and labour had not worked together to address the safety challenges we are faced with as an industry.
"But, this improvement is not ground for complacency. Efforts to improve further will continue, as they will even when the goal of zero fatalities is reached."
The council also reflected on the latest data on occupational health, where data for 2017, continued to show improvements.
"We are sure that one reason for the improvement is the effectiveness of the Masoyise iTB campaign, where government, organised labour and the industry are working closely to increase screening and testing for tuberculosis and HIV not only among employees but also in the communities where they live," Sangqu said.
The main goal of Masoyise iTB is to achieve a TB incidence rate in mining that is equal to or better than the country's incidence rate, he explained.
"The Minerals Council and the industry as a whole remain committed to continuing to work with our social partners on all matters of health and safety towards minimising injury and illness to our employees' work," Sangqu concluded.
Following Msiza's briefing, the South African Mining Development Association highlighted junior mining as a particular area of concern with regard to occupational fatalities, and suggested that the Fourth Industrial Revolution (4IR), and the technology wave it brings, be adapted to assist with early warning systems for seismic activity.
The NUM said a cultural transformation framework, better remuneration and the implementation of 4IR remain key to achieving the goal of 'zero harm'.
AMCU, meanwhile, called for the collaboration of stakeholders to amend the MHSA, and said mine managers need to be criminally charged and held responsible for the deaths of employees.
In response to AMCU's comments, Mineral Resources Minister Gwede Mantashe said criminal charges cannot be used as a formula to resolve the issue of mining accidents and fatalities.
AMCU's suggestion on amending the MHSA, will, however, be taken into consideration, the Minister said.