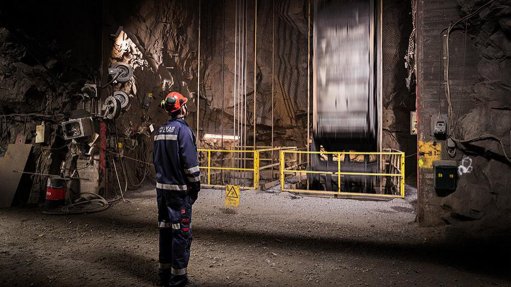 GOING DOWN The hoist supply and maintenance contract at the LKAB mine in Sweden has been awarded to ABB
Global technology company ABB has signed a long-term agreement with Swedish mining house Luossavaara-Kiirunavaara Aktiebolag (LKAB) to provide service to twelve mine hoists and the hoisting motors at the Kiruna mine, in Northern Sweden.
Kiruna is the largest underground iron-ore mine in the world, producing more than 85 000 t/d.
The service agreement with LKAB covers 12 hoists at the mine and has been extended until at least the end of 2023.
ABB has provided LKAB Kiruna with maintenance and hoist cycle optimisation to maximise efficiency and increase capacity at the mine since 2010.
The new contract extends these services to the end of 2023 with an agreement that LKAB may sign up for a further three years on a rolling basis.
Most of the ore mined at Kiruna is at depths of more than one kilometre, with large solid slabs of iron-ore deposits extending several hundreds of meters down into the ground.
Swedish ABB engineers, supported by ABB globally, have worked on site at Kiruna to increase hoist capacity through a reduced hoist cycle time to optimise production.
They have improved equipment use, balancing capacity and wear and tear of the hoist equipment.
"LKAB places great emphasis on refining every element of the underground mining process, in order to make it as efficient as possible," says LKAB senior maintenance engineer Peter Ylivainio.
He adds that mining ore at great depths is a logistical challenge that demands a well-functioning infrastructure and safe and resource-efficient production, with well-developed production methods and processes vital.
"We have a long successful relationship with ABB and [its] local presence, global expertise and remote operations technology support our goals.
"This new agreement means ABB will ensure optimal capacity, greater efficiency, lower energy consumption and extended equipment lifecycles across control systems, motors, drives as well as the hoists to 2023 and beyond," says ABB strategic account manager Erik Kjellgren.
He adds that ABB's experienced team of engineers provides regular support to LKAB and looks forward to seeing increased benefits for its customer in terms of insights and actions to optimise equipment performance.
The hoists are the main artery of the production flow at the Kiruna mine as they raise the ore hundreds of metres, from the sublevel to ground level.
The continuous operation of the hoists is critical for safety and to prevent costly interruptions to production.
LKAB's extended service agreement with ABB is designed to ensure the maximum reliability and availability for the hoist control system, motors and drives located both above and below ground.
ABB has a history of working with the mining and minerals industry at every stage of the mining cycle, beginning when the company delivered its first electrical motor for a mine hoist in Sweden in 1891.
ABB has committed to helping its customers realize the all-electric mine, helping mines move towards carbon neutral operations and drawing upon 130 years of experience in the mining industry.