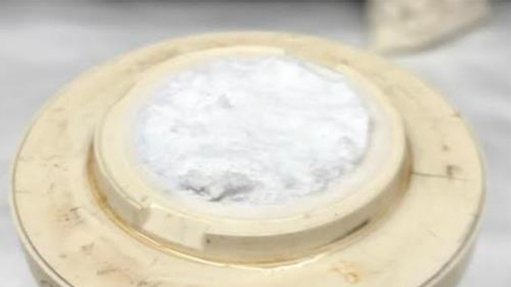 Lithium carbonate produced from oilfield brine using MGX's rapid recovery process
Photo by: MGX Minerals
VANCOUVER (miningweekly.com) – Budding energy metals producer MGX Minerals is looking forward to generating its first revenues later this year as the first commercial petrolithium extraction systems deploy to sites in Utah and Alberta.
"It's a liability until it becomes an asset," president and CEO Jared Lazerson says of the company's pioneering wastewater-to-lithium filtration technology.
"I can't say which is the most important catalyst for MGX between becoming a lithium producer, or generating first revenue this year, but they are both equally important to the company as we deploy our treatment systems to the first commercial sites," he tells Mining Weekly Online in an interview.
"There is something very sacred about producing a significant amount of lithium with our systems and there's a lot of value in there. The intellectual property alone is worth a small fortune," he says.
The company is working towards deploying its proprietary commercial filtration systems to its significant mineral rights claims on south-eastern Utah's Paradox Basin, a productive oil and gas drilling region where assays have tested grades up to 730 ppm lithium. The company plans to extract lithium from drilling wastewater, using a filtration system it has pioneered in Alberta – which is also known as Canada's oil patch – in collaboration with its engineering partner PurLucid Treatment Solutions.
MGX has developed a process for the quick extraction of lithium from salt brine, in particular oilfield production water brine. The company's rapid recovery process concentrates lithium, magnesium and other minerals from a variety of brines, including oil and gas wastewater, natural brine and industrial plant wastewater. The process uses a nanofiltration technology that uses a proprietary design process currently covered under patent and patent-pending applications.
MGX and PurLucid have integrated this rapid recovery design process with PurLucid's proprietary and patented nanoflotation technology that purifies wastewater. Combined, this technology can be used in a variety of different scenarios, ranging from oilfield operations to municipal treatment centres, or as standalone lithium and mineral extraction units with clean water by-product, Lazerson explains.
The process was developed to eliminate the solar evaporation phase of lithium production, which is part of a two-step lithium extraction from brine process in common use. By eliminating the solar evaporation phase, the process time can be reduced by 99% from about 18 months to one day, according to him.
He adds that the company is currently working with "nearly every" major producer and junior mining company active in Chile's prolific lithium brine flats, to explore the viability of installing its rapid extraction system. It has completed testing on brine samples from multiple salars, and has signed multiple joint brine testing agreements with local Chilean mining companies, where the world's highest-grade lithium brine deposits are found.
MGX has, to date, earned a 51% interest in PurLucid, under a ten-year option to earn a 100% stake. PurLucid's exclusively licenced nanoflotation technology, which purifies wastewater brine, has since been integrated with a newly developed lithium recovery process.
Combined, this cleantech process reduces the capital cost of recovery compared with traditional solar evaporation as it does not require the investment in very large, multi-phase, lake-sized, lined evaporation ponds, greatly reducing the physical footprint and enhancing the quality of extraction and recovery across a complex range of brines previously considered unprocessable, owing to complexity or geographical location outside of the viable solar evaporation zones, Lazerson notes.
MGX holds the global rights to the jointly developed lithium extraction technology for the life of the patent. This allows the company to provide flexible fully integrated oilfield solutions to oil and gas operators.
To date, the company has built a pre-commercial test pilot plant and a further 120 m3/d plant is now near completion. It is also building a 1 200 m3/d commercial plant to target metal and mineral extraction as well as water reuse and re-purpose applications. The company has also completed the initial component design for a 2 400 m3/d system.
Lazerson says the company is nearing completion of its second commercial-scale contract for deployment of the water treatment and lithium extraction systems at petrolithium sites in Alberta. Final assembly, site preparation and deployment are under way for the initial site and installation at both sites is expected to be largely complete by June. Under the agreement, MGX remains in control of all lithium and other minerals extracted using the lithium extraction systems.
Since January, MGX and PurLucid have been working to further prove the viability of lithium recovery from industrial wastewater sites in the US, while also improving the quality of effluent discharged to a river. Recent testing from an industrial site concentrated lithium to commercial grade as lithium chloride, he says.
MAGNESIUM/ZINC OPPORTUNITIES
Meanwhile, MGX is also making progress with its Driftwood Creek magnesium project, in British Columbia, after it recently completed a preliminary economic assessment (PEA) on the project that demonstrated the potential to become a high-margin, low-cost producer of magnesium oxide.
The early-stage assessment has calculated a pre-tax net present value for the project of C$529.8-million, with an internal rate of return coming in at 24.5%, providing a 3.5-year payback period of the C$235.9-million initial capital component.
"The PEA displayed Driftwood's ability to become a high-margin, low-cost producer of magnesium oxide in a politically secure jurisdiction. We have now moved to the prefeasibility phase," Lazerson says.
Average yearly magnesium oxide production will be 169 700 t during the 19-year mine life, while the quarry pit mine will be alongside a 1 200 t/d process plant using conventional crushing, grinding, flotation upgrading, calcination, and sintering to produce a saleable DBM product.
A total of 7.84-million tonnes of mineralised resource could be mined and processed with 19.17-million tonnes of rock material, which includes 60 000 t of capitalised rock.
MGX has also acquired Vancouver-based clean energy company ZincNyx Energy Solutions, which specialises in developing zinc-air batteries and modular energy storage systems. ZincNyx has developed a scaled-up 20 kW system for use in utility-scale battery storage. The 20 kW/160 kWh modules represent a fourfold increase in both energy and power as compared to the previous 5 kW systems.
Using zinc and air as fuel, ZincNyx uses innovative regenerative zinc-air flow batteries that can be readily scaled from kilowatt to megawatt range to provide low-cost energy storage. The technology resolves the intermittent and unpredictable nature of renewable energy sources such as wind and solar, Lazerson points out. The opportunity to replace marine diesel engines with electric engines and zinc-air fuel cells is now also being evaluated.
The company will imminently list ZincNyx publicly and pay a partial share dividend of ZincNyx directly to MGX shareholders of record.