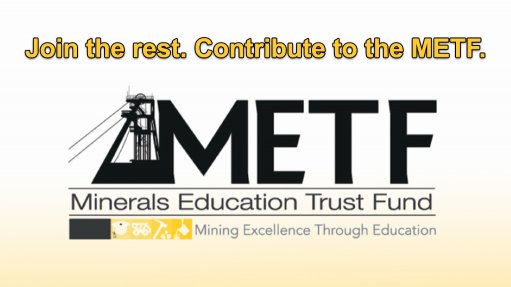 The South African minerals industry relies on high quality graduates in the fields of Mining, Metallurgy/Chemical Engineering and Geology to ensure its long-term sustainability, says the Minerals Education Trust Fund (METF) – which was formed with this objective in mind.
Constituted in 2000 by South African minerals and mining companies, the Fund is primarily concerned with the ability of tertiary minerals education departments to attract and retain quality lecturing staff in order to continue to produce "much needed high-level technical skills" for the industry.
The founding members of the METF realised that a career in academia is often less attractive when compared to careers with more favourable remuneration packages.
As such, the METF's main objective is to subvent the salaries of key lecturing staff in mining-related disciplines, ensuring that it becomes viable for qualified professionals to enter and remain in the world of academia.
The Fund receives contributions from its members who represent the majority of the local mining and minerals industry, having grown from 13 companies in 2000 to 29 in 2020.
Since its inception, The METF has played a vital role in ensuring the sustainability of key academic departments. Although current contributors both large and small, remain committed to the Fund, funding is decreasing both as a result of restructuring as well as a consequence of the challenging operating environment experienced by the contributing companies.
It is therefore essential that the Fund attracts new contributors.
Benefits
Aside from securing the future of the industry by assisting local tertiary institutions in providing world-class education and skills development, there are numerous benefits for participating companies.
Mining Charter III stipulates that companies devote a percentage of their yearly turnover to skills development. Contributions to the METF qualify for this contribution which means that participating in the METF assists companies, from a legislative compliance perspective.
Further, the METF is a registered public benefit organisation, which means that all contributions qualify for tax exemption under Section 18A of the Income Tax Act.
The METF also holds a Socio-Economic Development (SED) certificate in terms of the Broad-Based Black Economic Empowerment legislation. A contributor may therefore claim full benefit under the SED element of the scorecard.
Currently the Fund's contributions fund subventions for 222 staff members at nine higher education institutions including the universities of the Witwatersrand, Cape Town, Pretoria, Stellenbosch, Johannesburg, UNISA, Kwa-Zulu Natal, North West and Free State.
This support ultimately assists 5 114 undergraduate students, 75% of whom are historically disadvantaged, of which 39% are female.
Sharon Bauer <sharonb@careerwise.co.za>
Website - http://www.metf.co.za/