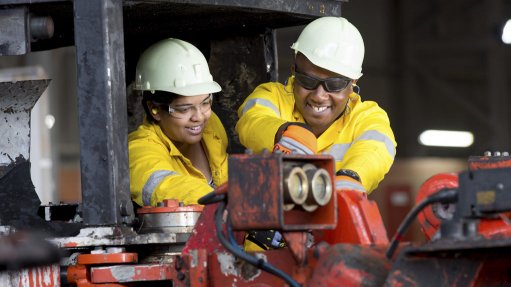 PRIANKA PADAYACHEE The mining graduate is advocating for female mentors to ease the challenges faced by women in mining
Finding a mentor who has extensive experience in the industry is one way of mitigating challenges facing women in the mining industry, says multinational mining company Anglo American production section shift supervisor Prianka Padayachee.
Women in mining face many challenges in a traditionally male-dominated industry. Padayachee, 26, recalls the scepticism around whether she was physically and mentally capable of working in the industry. "It took much effort and perseverance to prove to my colleagues that I was up to the challenge," she emphasises, noting that she decided to enter the mining industry because she "was passionate about geography and especially geology, as well as everything related to engineering and technology, so mining engineering was the perfect fit".
Science, technology, engineering and mathematics (Stem) have a history of being skewed towards males. Currently, women comprise 23% of Stem talent worldwide. Padayachee's achievements are a further challenge to this statistic. With a BSc in mining engineering and being the first woman to chair the University of the Witwatersrand's Mining School Society, she is furthering her studies in explosives engineering, while heading the production section at Anglo American's Zibulo thermal coal mine, based in Mpumalanga.
According to the South African Chamber of Mines' 'Mine SA Facts and Figures' report, published in 2016, the number of women in the industry has increased significantly since the publishing of the 2002 Mineral and Petroleum Resources Development Act and the Mining Charter in 2004, which called for 10% female staff quotas.
The report states that the majority of mines in South Africa meet or exceed the 10% target of women in mining, with industry initiatives said to be under way to make a career in mining more appealing to women.
The local representation of women in mining increased from 11 400 in 2002 to about 53 000 in 2015, when they accounted for 18% of the industry's workforce. Special focus has been placed on training and development, subsequently resulting in the majority of women employed in the industry being skilled by 2015.
The report also notes that, in the same year, women represented 15% of top management positions in the industry, 16% of senior management, 22% of professionally qualified employees and 18% of employees in skilled and technical positions.

Despite statistics indicating improvements for women in mining, there are still challenges, and having a point to prove on a personal and professional basis is essential in thriving as a woman in the mining industry, says Padayachee.
Guidance and constant support is important in overcoming these challenges, and Padayachee is passionate about woman-to-woman mentorship, having benefited from Anglo American's coal business mentorship programme. As a mentor herself, she says, although having a female mentor is construed by some as biased, shared experiences with other female engineers is helpful in preparing for the challenges ahead.