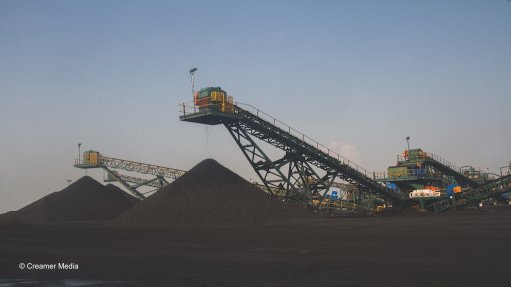 Photo by: © Creamer Media
Name of the Project
Menar coal and anthracite projects.

Location
Gauteng, KwaZulu-Natal and Mpumalanga, in South Africa.

Project Owner/s
Menar, through its subsidiaries Kangra and Canyon Coal.

Project Description
Menar, through its subsidiaries, expects to produce 20-million tons of coal a year from 2022/23.

Several projects are proposed, including:
the Bekezela (formerly Palmietkuilen) project, near Springs, in Gauteng.
the Gugulethu (formerly De Wittekrans) project, south of Hendrina, in Mpumalanga. The construction of Phase 1 comprises opencast mining from a reserve of 14.3-million tons. Phase 1 of the project will comprise three opencast pits, one of which has been specifically designed to gain access to the underground reserve. Phase 2 will entail mining the remainder of the reserve using underground methods. The estimated overall life-of-mine (LoM) for Gugulethu is more than 20 years, with a production rate of about 200 000 t of run-of-mine (RoM) a month.
the Thuso (formerly Witfontein) underground and opencast coal project, north-west of Bethal, in Mpumalanga, which has an estimated LoM of 11 years, based on RoM production of about 100 000 t a month.
the Riversdale Anthracite Colliery (RAC) project, in Vryheid, KwaZulu-Natal, will be an underground project with a six-year LoM, based on RoM production of 30 000 t a month.
the Sukuma (formerly Springfield) opencast project, in Vereeniging, Gauteng, with an LoM of about 30 years, based on RoM production of about 600 000 t a month.
the Gila (formerly Koppie) underground project, in Bethal, Mpumalanga, with an LoM of about 20 years, based on RoM of about 150 000 t a month.
the Umzila (formerly Birmingham) underground project, in Hendrina, Mpumalanga, with an LoM of 20 years, based on RoM production of 200 000 t a month.
the Ukuduma (formerly Aasvoëlkrans) underground project, 10 km north-west of Utrecht, in KwaZulu-Natal, with an LoM of 4 years, which is based on RoM production of about 50 000 t a month.
the Mngeni Shaft, which will extend the LoM of the Zululand Anthracite Colliery (ZAC), located about 27 km north-east of Ulundi, has an anticipated LoM of about 6 years, based on an in situ extractable reserve of 1.48-million tons at 20 000 t a month. Drill-and-blast mining methods will be used to produce the anticipated RoM production of about 240 000 t a year of anthracite.
the Kusipongo underground project, outside of Piet Retief, in Mpumalanga, with an LoM of more than 20 years, based on RoM production of 125 000 t a month. The Udumo adit forms part of the Kusipongo coal resource. Kusipongo includes the development of the Balgarthan A adit, located about 25 km south-west of the Udomo adit, which will have one underground section.
Menar has ramped up the Khanye Colliery, in Bronkhorstspruit, Gauteng, which is producing 2.4-million tons of coal a year.

Mining operations started at the Phalanndwa Colliery extension following the first large-scale blasting of coal on July 17, 2019. The project is expected to extend the LoM to 2024. The project has reached steady-state production and is producing an average of 170 000 t a month of RoM.

Potential Job Creation
Menar projects are expected to create about 2 000 jobs, including 320 at the Bekezela project, 430 at the Gugulethu, 200 at Thuso, 200 at the RAC operation, and 400 at the Sukuma opencast mine. Ukuduma will create about 70 jobs and Mngeni Shaft about 200 jobs.

The operating Khanye Colliery employs 400 people and the Phalanndwa Colliery extension project employs 200 people.

Net Present Value/Internal Rate of Return
Not stated.

Capital Expenditure
Menar plans to invest about R7-billion in coal projects from now until 2026 including R1.5-billion in Bekezela, R600-million in Gugulethu for Phase 1 , R1.5-billion in Sukuma, R700-million in Thuso, R1-billion in Umzila and Gila, R300-million in RAC, about R388-million in Ukuduma and about R130-million in the Mngeni Shaft development.

Planned Start/End Date
Kangra produced the first coal from its new underground Udumo adit on February 9, 2022.

Gugulethu and Bekezela are expected to start production in 2023 and 2024 respectively, while Thuso is expected to begin in 2024. The development of the RAC project will also start in 2024.

The Sukuma, Umzila, Gila and Ukuduma projects are expected to start production in 2025.

Mngeni Shaft is expected to start production during the third quarter of 2023. It is now expected to achieve first coal in October this year.

The start dates for the projects are subject to coal market conditions.

Latest Developments
The construction phase of the new Gugulethu Colliery is progressing.
Menar is working on the boxcut, with the expectation that first coal will be extracted in July or August this year.
The R600-million being spent on the Gugulethu project comprises more than half of the R1.04-billion of investment in South Africa pledged by Menar at President Cyril Ramaphosa's South Africa Investment Conference.
Developments at the project are progressing well, despite initial delays in the construction of the road because of heavy rains.
Two teams working on the boxcut are removing the topsoil and stockpiling it separately.
The refurbished processing plant infrastructure is scheduled to be operational by September.
The first phase of opencast operation is expected to produce 200 000 t of RoM coal a month. The second phase, which consists of underground mining, should resume in seven years.
Thuso, in Bethal, is also fully licensed and work on its infrastructure plan is being finalised.
Key Contracts, Suppliers and Consultants
ZAC:
Phillips, JA Engineering; Sandvik; Volvo; ZNZ Construction & Projects; Ntwanaza Logistics; Mhobozeli; Beautiful Landscaping; Zululand Bus Services; Zamokuhle MJ Catering & Other Services; Uzamile Trading; Increase Business Construction; Thuthukani Trading Co-Operative; Izithenjwa Corporative Enterprise; Emhlophe Investments & Trading; Khumbulani N Son; Ikusasa Lama Jola; Babazani Construction & Projects; and Dibanto General Services.

Kangra:
Phillips; JA Engineering; Sandvik; Volvo; CAT; Mumnkosi Project & Services; Zama Phangwa Construction; Macina Building & General Maintenance; Mgquzeni Mining; Foloyi Construction and Projects; Donkerhoek Mining Projects (DMS); DDK Logistics; and Komatsu Mining and Sandvik Mining (viewing and implementation of real-time systems to monitor operational and safety performance of the equipment).

Canyon Coal:
Volvo; CAT; Bell; Komatsu; Mbalenhle Tours And Construction; African Pro Mining & Supplies; Dube Solution; Grapeseed Trading 102; Skipgo; Golden Reno Trading and Project; Highlands Commodities cc; Kungwini Mica; Malefo Holdings; Mulwane Trading and Projects; Nduzane General Trade; Phoka Goje Transport and Services; W Masuku Transport and Projects; Zonke General Trading cc; Summer Triangle Trading; Royal Pros Services; Madlayedwa Transport; Mrholozi Group; Kardicks Logistics; Sesupha Solutions; Netshipise Business Solutions; Future Rise Enterprise; Thuthukisa Izwe Trading; Atang Holdings; IK Mnguni; Kgaditse Prestige Events; Ndimande Logistics and Transport Mancamane Trading Enterprise; SSW Signs & Reflective; Malele Hydraulics; Malefo Mining services; Nkosana Sizwe Trading Enterprise; 1st Episode Trading; Two Mosquitos; Road Science Technology; Armoured Enterprise; Amandla Mining Service; Starcrow 36; Buhlebuta Business Enterprises; JD Hydraulics; Afikile Construction; NTT Toyota Delmas; Maphangela; Bakone Bakopane; PTM Trading; Khethowakho Trading & Projects; Inelco International; Xclusive energy; BMG Delmas; Morgan Gift; and Enhle projects.

Contact Details for Project Information
Menar, tel +27 11 783 7996 or email info@menar.com.