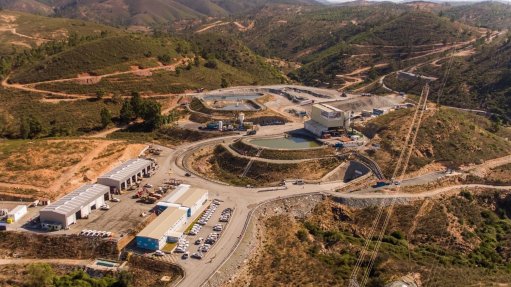 Photo by: Sandfire Resources
Name of the Mine
MATSA Copper Operations.
Location
Huelva province of south-western Spain, in the northern portion of the Iberian Pyrite Belt.
Mine Owner/s
Sandfire Resources.
Brief Description
MATSA is a sizeable polymetallic mining operation, which sources ore from three underground mines – Aguas Teñidas and Magdalena mines, in Almonaster la Real, and the Sotiel mine, in Calañas, producing copper, zinc and lead mineral concentrates that are shipped from the Port of Huelva.
Brief History
Sandfire Resources acquired the MATSA operations from Trafigura and Mubadala Investment Company for a total consideration of $1.87-billion in February 2022.
Primary Metals/Minerals
Copper, zinc and lead concentrates.
Secondary Metals/Minerals
Silver.
Geology/Mineralisation
MATSA's deposits are located along the Iberian Pyrite Belt (IPB), a zone of mineralisation that extends over 230 km in length and 40 km in width, between Seville, in Spain, and Lisbon, in Portugal.
The IPB is one of the biggest and most important volcanogenic massive sulphide metallogenic provinces in the world, and is characterised by giant and supergiant base metal deposits
The Aguas Teñidas and Magdalena mines are located on the northern limb, characterised by massive sulphides and hosted in pumice-rich volcanoclastic rocks, located in the marginal areas of volcanic domes.
The Sotiel mine is located on the southern limb, characterised by large pyrite-rich, slate-hosted deposits, which are typically strata bound with well-defined stockworks.
Mineralisation at the three mines is typically strata bound and or structurally controlled sulphide lenses. A copper-enriched stockwork system, comprising irregular veins filled by quartz and disseminated sulphides, is present on all deposits and have been interpreted as volcanic feeders.
The massive sulphide mineralogy at all three mines is primarily pyritechalcopyrite and sphalerite with minor galena. All the deposits have been structurally deformed, post deposition.
Reserves
Total proven and probable reserves as at April 30, 2022, were estimated at 37.1-million tonnes grading 1.6% copper, 2.6% zinc, 0.8% lead and 36.1 g/t silver.
Resources
Total measured, indicated and inferred mineral resources as at December 31, 2021, were estimated at 147.2-million tonnes grading 1.4% copper, 3% zinc, 1% lead, 39.6 g/t silver.
Mining Method
Underground, using a combination of longitudinal and transverse open stoping.
Major Infrastructure/Equipment
MATSA includes a central processing facility at Aguas Teñidas. The facility treats ore from all three mine sites and has a capacity of 4.7-million tonnes a year. The processing complex comprises two processing plants, which contain two crushing lines and three processing lines.
The processing lines have been designed to process cupriferous and polymetallic ores and can be reconfigured, depending on ore availability and blend.
Prospects
Sandfire is working towards an optimised five-year plan for the MATSA Copper Operations underpinned by a safety improvement plan, a programme to improve mine productivity and expand throughput beyond 4.7-million tonnes a year, and near-mine mineral resource extensions at existing mines, as well as an expansive exploration programme.
Contact Details
Sandfire Resources
Tel +61 8 6430 3800
Email admin@sandfire.com.au
Sources
Sandfire Resources. Website https://www.sandfire.com.au/.
Sandfire Resources. Annual Report 2022 (September 30, 2022).
Sandfire Resources. MATSA Copper Operations site tour information pack (June 30, 2022).
Sandfire Resources. 37Mt ore reserve cements foundation for long-term growth at Sandfire's MATSA Copper Operations (July 28, 2022).