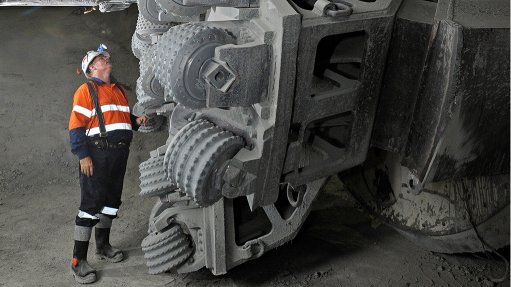 JOHANNESBURG (miningweekly.com) – Two additional machines and the impact of favourable foreign-exchange movements have contributed to a 12.5% increase in JSE-listed drilling services provider Master Drilling's revenue to $60.5-million for the six months ended June 30.
The group added two raise-bore machines during the period under review, which contributed 4.7% towards the company's revenue growth. Master Drilling's fleet now comprises 106 raise-bore machines and 33 slim-drilling rigs.
The group's operating profit, however, decreased by 9.6% to $12.1-million.
"Despite a volatile macroeconomic and political environment globally, we reported good interim results today, underpinned by a solid US dollar revenue increase . . . The stronger emerging market currencies during the current reporting period, however, had an adverse impact on earnings," noted Master Drilling CEO Danie Pretorius at the group's results presentation, which took place in Johannesburg on Tuesday.
Nevertheless, Pretorius noted that the group's focus on an innovative culture that supports the customer underpins the resilience of the company's business model throughout economic and commodity cycles.
Despite the extended commodity downcycle that put pressure on the business, as well as the occurrence of shorter-term contracts as opposed to longer-term contracts, Master Drilling CFO Andre van Deventer highlighted that the company has maintained a healthy pipeline of $226.1-million and a committed order book of $115.3-million.
FINANCIALS
Master Drilling's conservative provisions for taxation in some jurisdictions in previous years led to a decrease in taxation, which supported a flat profit after taxation of $10-million in the period under review.
Further, the company's decision to invest in people to drive future growth resulted in profit before tax decreasing 9.4% to $11.5-million.
US dollar earnings per share (EPS) increased by 4.8% to 6.6c, while South African rand EPS decreased by 10.7% to 87c as a result of the stronger rand compared with the same period last year.
Similarly, US dollar headline earnings per share (HEPS) increased by 4.8% to 6.6c, while South African rand HEPS decreased by 10.7% to 87c, compared with the same period last year.
Net cash generation improved to $11.7-million, following investments in 2016 that catered for higher volumes of work coming on stream owing to new projects across the group.
Master Drilling noted that, following the payment of a maiden dividend of 30c for the 2016 financial year, the group will consider an appropriate dividend at year-end.
OPERATIONAL OVERVIEW
The first half of 2017 saw steady market activities, lower-than-targeted use rates and the initiation of two new projects, which supported the group's financial performance compared with the same period last year. According to Van Deventer, the current operating environment stabilised with a healthy level of enquiries and improved operational base throughout.
In South America, the company's Peruvian business experienced a slow start to 2017, though activities have increased since May, with the pipeline for the remainder of the year remaining strong. The Brazil business also stabilised over the period and is doing well, said Pretorius, highlighting an evident increase in the hydroelectric energy sector, with a number of submitted proposals awaiting feedback.
In addition, the company was awarded a hydroelectric energy project in Colombia to the value of $1.9-million, which is expected to be complete towards the end of the current year.
Once successfully completed, this technology should help unlock the hydroelectric energy sector for Master Drilling across geographies.
In Central America, the company's Mexican business had a strong start to the year, supported by a marketing drive and a recovery in the silver price. Despite market pressures in the Mexican environment, the country outlook remains positive for the remainder of 2017 and beyond.
In North America, Master Drilling shipped a new machine with a dual capability of blind shaft-boring and raise-bore drilling to the US during the reporting period. Pretorius noted that this market is expected to remain strong, based on enquiries received as well as the expected spend on infrastructure development.
In Africa, Master Drilling's Zambia operations reported low activity, though this is in line with expectations, while in the Democratic Republic of Congo, the contracts will near completion in the second half of the year. Master Drilling's other projects in Mali, Sierra Leone and Tanzania are performing as expected and the company remains committed to expanding into appropriate African countries.
Pretorius notes that, in South Africa, the potential impact of the proposed new Mining Charter has created a lot of uncertainty, though Master Drilling continues to support loyal clients through the extended downturn in the commodity cycle, which has resulted in subdued growth in the industry.
TECHNOLOGICAL STRIDES
Master Drilling continued to strengthen its internally developed technology service offering during the period under review, meeting several development milestones with regard to its world-first technologies. The company is confident that these technologies will gain traction within its markets.
Further, the concept phase of Master Drilling's mobile tunnel borer is expected to start this month. The tunnel borer will allow for continuous mining with no need for blasting, thereby significantly enhancing mining efficiencies.
"We believe this is where substantial future growth will originate from," said Pretorius.
He added that the group aims to order the tunnel borer this month, take delivery of the machine and undertake commissioning next year, with plans to place the machines into production.
Meanwhile, the Industrial Development Corporation (IDC), confirmed partial funding for the first phase of Master Drilling's blind shaft boring system (BSBS) development.
Allowing for cost-effective and safe access to orebodies situated at great depths and in hard substrate, the BSBS has a minimal environmental impact as the entire operation can be conducted without the need for blasting.
Roll-out of the project is expected in 2019. With the IDC, Master Drilling is also exploring opportunities to develop locally initiated technologies that support cost-effective, simpler and improved drilling systems.
In addition, Pretorius highlights the company's recent developments in tunnel boring machinery, which have resulted in equipment that is able to bore out a suitably sized excavation at a rate that far exceeds that of conventional methods.
Consequently, Master Drilling's gripper machine, which weighs 16 t, has been designed with a steering system to follow the seam as required. The machine relies on friction and thrust to advance during drilling and to maintain its "grip" inside the hole, while preventing the machine itself from falling down the hole.
Pretorius adds that Master Drilling will also commit to additional horizontal raise-boring production, which he believes can become "a game changer" for industry.
PROSPECTS
Pretorius noted that diversification "across geographies, commodities, currencies and industries" remains a key part of Master Drilling's long-term strategy. He added that the group was experiencing strong demand with increased enquiries across the various regions and commodities.
Further, several opportunities in Australia, Canada and the US are still being investigated, he said, adding that the group envisages additional growth from these countries, as well as from Africa and Scandinavia.
Additionally, the group expects the use rates of the raise-bore rigs to continue at about 70% for the remainder of 2017, with an aim to drive rates to about 75% from 2018 to improve return on investment.
Pretorius also emphasised that the company is agile in its approach and able to mitigate critical operational risks for clients.
Further, the group would ideally like to extend its revenue growth for the civil and construction sector so that it comprises about 30% of the portfolio and to have business diversified into specific niches in this particular sector.
Additionally, Master Drilling will aim to grow business in openpit mining, as this sector comprises more than 70% of mining worldwide.
Master Drilling will further focus on working capital management while decreasing project initiation costs, Van Deventer said.
"With 80% of our income derived from production, we are well-positioned to navigate the current extended commodity cycle," he concluded.