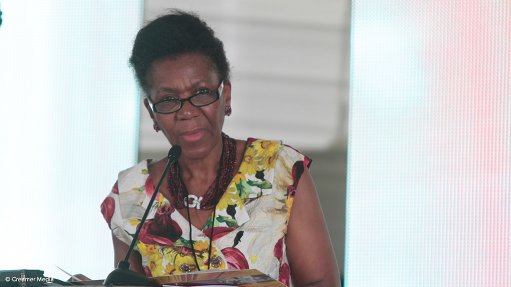 Daphne Mashile-Nkosi
Photo by: Duane Daws
JOHANNESBURG (miningweekly.com) – Kalagadi Manganese chairperson Daphne Mashile-Nkosi was named 'CEO of the Year' at the Africa CEO Forum, held in Geneva, Switzerland, this week.
The coveted award recognised companies and individuals whose strategies contributed to Africa's economic ascendance, and Mashile-Nkosi's "background" made her the "ideal candidate", Africa CEO Forum chairperson Amir Ben Yahmed said.
"She stands alone as a successful, entrepreneurial black woman in the male-dominated mining sector. As a woman pioneer, she started Eyesizwe Coal in 1999, which is today known as the mining giant, Exxaro," he noted.
Mashile-Nkosi leads integrated manganese developer Kalagadi Manganese – a R7-billion, three-million-ton-a-year manganese ore project employing 3 000 people – which was playing a "vital role" in the socioeconomic development of the Northern Cape.
Kalagadi had also built a nursery school and re-equipped a primary school as part of the company's community outreach programme.
"I am humbled to have won this prestigious award, for it goes far beyond the recognition of business success, [as it is] coupled with my commitment to social upliftment and environmental responsibility. It also acknowledges that an African woman can make her mark in the historically male-dominated mining industry, said Mashile-Nkosi at the awards ceremony.
She hoped this would "symbolise the breaking of the glass ceiling" and open the way to encourage other women to take their "rightful places around the boardroom tables" of Africa.
"The mining industry has not been an easy road, especially for a black woman, but I have persevered and succeeded in surmounting the many obstacles that have been placed in my path. Where there is no pain, there is no gain," commented Mashile-Nkosi.
Morocco-based Maroc Telecom's Abdeslam Ahizoune; Kenya's Safaricom leader Bob Collymore; Nigerian Shoreline Energy International's Kola Karim and South Africa-based Econet Wireless head Strive Masiyiwa were nominees for the CEO of the Year award.