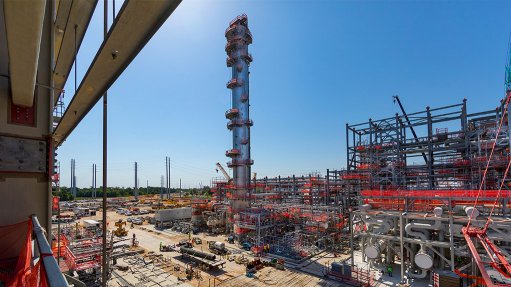 MARKETING THE MARKET Sasol and Helm will together market the products of the Ethylene cracker
Integrated chemicals and petrochemicals company Sasol and multifunctional distribution company Helm have entered into a long-term marketing agreement for ethylene glycols.
The agreement between Sasol and Helm will come into effect upon the start-up of Sasol's new ethylene oxide and ethylene glycol (EO/EG) units in Lake Charles, Louisiana, in the US.
Sasol's EO/EG unit has a nameplate capacity of 250 000-million tons a year for monoethylene glycol (MEG) with associated higher glycols production. Helm will market and distribute products in North America as well as in the different export markets globally.
The EG production is part of Sasol's Lake Charles Chemicals Project, including a 1.5-million ton a year ethane cracker as well as six downstream chemical production units.
Helm feedstocks senior executive business unit manager Fried Hansen emphasises that Sasol benefits from Helm's global presence combined with its logistical functions and sustainable as well as reliable offtake.
With this long-term marketing agreement, Helm will strengthen its position in EGs and underline its ambitious growth plans in the industry.
"Combining Sasol's feedstock advantage and world-class manufacturing capability with Helm's global reach and experience with glycols marketing will maximise our shareholder value for the foreseeable future," adds Sasol performance chemicals organics VP Mike Clark.
In May, Helm Group reported a satisfactory result for the financial year from its core business before earnings from associated companies. Improved operating performance produced an increase in revenue of about €500-million. Helm Group's global revenues totalled €7.4-billion.
Subsequently, Helm operated in a positive market environment with rising product prices, and was able to improve consolidated revenues to around €2.6-billion in 2017 equivalent to an increase of 13% in its feedstocks and derivatives market.
With its share of 63.8%, chemicals contribute more to revenues than any other business line throughout the group.