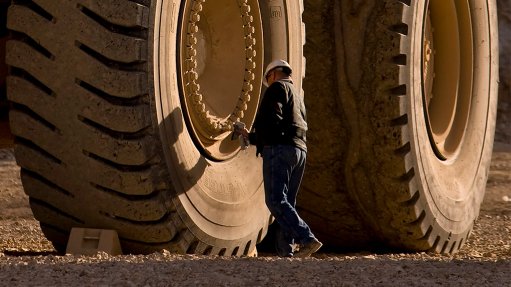 MINE OPTIMISATION VBox Africa provides solutions for the opencast mining industry that can reduce operating costs
Automotive chip manufacturer VBox Africa, a division of automotive specialists Automotive Technology Specialists (ATS), has added a range of measurement and control products to its range that is aimed specifically at the local mining industry.
By combining hardware and software, VBox provides solutions for the opencast mining industry that can significantly reduce operating costs. Products new to the range include the new tonne-kilometres per hour (TKPH) software.
ATS sales director Kobus Roos explains that the software is designed specifically with opencast mining in mind and enables the tyre selection to be closely matched to on-the-ground conditions at the mining operations. This creates the potential for large operational savings in an industry where a single tyre can cost more than R1-million.
He further notes that when it comes to validating advanced driver assistance systems, such as adaptive cruise control, pinpoint accuracy, as well compliance with international standards provided by the International Organisation for Standardisation, are required.
"Setting up VBox Africa and moving into the automotive and mining spheres is a very exciting development for us," Roos highlights.
Meanwhile, custom software, the VBox Test Suite (VTS), allows for the manipulation of outputted information and the generation of reports that address specific needs. The braking plugin for VTS allows for rapid, repeatable and accurate testing to the SAE J2909 standard, with the vehicle operator able to examine results in a user-friendly report before leaving the test site.
Roos points out that with positional accuracy of less than 2 cm, a system, such as the Vbox 3i, which logs at 100 Hz, is the preferred choice for mining industries.
He explains that VBox has been a supplier of products, software and equipment to ATS for several years. Owing to this the company has been able to offer its motorsport clientele technology with which to monitor and measure what happened on-track and from there to conduct driver vehicle analysis.
"It takes the guesswork out of what is still something of a black art - with a VBox the good, the bad and the ugly can be seen," he explains.
Racers rely on VBox to find them precious tenths of seconds, while the industry uses it for validation of technology and to improve productivity.
Local VBox users already include performance enhancer AMG Academy, car manufacturer BMW South Africa, parts manufacturer Ferodo, individual motorsport competitors and mining services provider MCC.